Circle of Success … An Instant Fear Eraser for Approaching Clients and Projects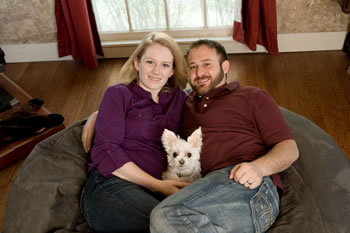 When Christina Gillick joined Circle of Success in 2011, she hoped it would be the turning point in her copywriting career. She'd heard many successful copywriters say joining COS was what made their decision real and she hoped it would be the same for her.
She just didn't realize how quickly everything would change.
Even though she worked at home for a full time job she really enjoyed, Christina wanted the complete freedom – and income – of the writer's life.
She bought AWAI's Accelerated Program for Six-Figure Copywriting in 2009 and had read a lot of it. She used the training to get promoted to Copywriter at her full time job, but two years later she was still afraid to take the leap into full time freelancing.
She was convinced COS would be the pivotal decision point in her career. There would be no turning back.
"I purposely joined COS on a payment plan and made a deal with my husband that I would pay for my membership solely on copywriting jobs. I knew being responsible for that payment each month would force me to take consistent action to earn at least enough to pay the monthly payment.
"Right away I knew that COS was different from anything else I had bought to advance my career. I think the biggest thing for me was the step-by-step direction and accountability COS provided. It helped me focus and make progress quickly. That first month, I earned twice what my monthly payment was and it's only gone up from there."
Within five months of joining COS, Christina was bringing in a full time income working only a few hours each week on evenings and weekends.
"Free COS access to all the AWAI products gave me the confidence to take on almost any project. If a client requested a white paper, I could just download the course and follow the step-by-step instructions. If I got stuck I could reach out to the experts and my peers in the forums. It was like an instant fear eraser for approaching clients and projects. But, there was one more fear I had to overcome: giving up my steady paycheck from my full time job."
Looking back, she says she's happy she held onto it for as long as she did because her husband, Nick, got laid off from his job not long after. The extra money from the copywriting projects meant he didn't have to go looking for a job. He was able to try his hand at copywriting and some other business ventures.
"I remember the day he got laid off. I went outside to check the mail and he was in the driveway. I didn't understand why he'd be home in the middle of the day. He told me he got laid off and I remember being really calm and just saying, 'Okay, you wanted to quit anyway.' Then, we went inside and got to work. It's really calming to know that copywriting is a source of income I can control."
By the time Nick settled on something he really enjoyed in early 2012, Christina had so many writing projects that she couldn't keep freelancing and working full time for much longer. She waited just long enough to make sure Nick's new venture would work out before dramatically reducing her hours at her full time job.
Now she works just two days each week for her old full time employer and spends the rest of the week on her own business.
"It's been a little over a year since I joined COS and I'm able to make more in two or three days of freelancing than I used to make in a whole week working full time. Plus, I can do it on my schedule and work for clients that I pick and choose. I can say, without a doubt, that joining COS was the turning point in my career. It was like saying, 'I'm finally ready to do what it takes.'
"If someone were to ask, 'When do you plan to start completely freelancing?' I would say, 'I already am.' My 'two-day-a-week boss' is very laid-back about where and when I do my work. I can work from home – or anywhere with an internet connection. He's more like another client than a j.o.b. and I really enjoy the work. Plus, because of my copywriting and marketing training, I've recently received another promotion. I'm truly living the writer's life and I have AWAI to thank for it!"

The Professional Writers' Alliance
At last, a professional organization that caters to the needs of direct-response industry writers. Find out how membership can change the course of your career. Learn More »

Published: November 6, 2012