AWAI Across America
Destination — Verona, Wisconsin
Home of Steve Roller

How to Jump-Start Your Career in the New Year
With 2013 right around the corner, I'm hearing a lot about setting goals for the New Year. Where do you want to be a year from now? Do you have a plan to get there? How will you know when you get there?
If becoming a full-time copywriter is your dream, then your biggest question probably is: How do I get started?
Last time, I shared how Heather Robson laid out a plan of action to take charge of her own life and be the "driver of her bus." Today, I want to share the "getting started secrets" of Steve Roller, who has been a full-time copywriter for over three years.
An advantage Steve had coming into copywriting was his extensive sales experience. However, writing was not on his resume. A graduate in economics, he wrote just two papers during his time at university.
How did he get into copywriting?
When his artist wife was trying to get her own business launched, Steve wanted more flexibility in his own job so he could share the responsibility of raising their kids.
His wife, Emida, worked all day. Steve worked the night shift at a call center while he was trying to figure out what he really wanted to do career-wise. He was surfing the Web one night and came across AWAI through the Early To Rise newsletter.
He ordered his first program in July, 2004, came to Bootcamp in 2007, and then joined COS (Circle of Success). During his second Bootcamp in 2008, he decided it was time to get serious about this new potential career. Steve remembers during an evening session with Gary Hennerberg, when he really got the bug and hasn't looked back.
He was energized by Gary's description of his lifestyle and the positive relationships and mutual respect he has with his clients. Steve liked the idea of being known as a writer and generating creative results for his clients.
When he returned home, he started calling himself a copywriter and told others that's what he was too. Two weeks later, during breakfast with a friend, he mentioned he was a copywriter and fate stepped in. This friend had just fired his copywriter. He asked Steve to step in.
Lucky for Steve, there was no request for references, testimonials, website location, or business cards … he had none. Instead he was asked to attend a staff meeting, which included the marketing director, to share his ideas for this company.
Up to this point, Steve didn't have any professional copywriting experience, but he had finished the Accelerated Program for Six-Figure Copywriting and participated in much of what AWAI had to offer.
That gave him enough confidence and expertise to lay out a 12-month plan. They asked him to start right away.
This first "real" copywriting job increased his self-assurance. It also gave him material for a portfolio, testimonials, and referrals — the things he didn't have in that first meeting. And with them, he was able to secure other projects, mostly by word-of-mouth, referrals, and friends.
In the early days, he didn't really market himself or have a niche yet. He took work as it came. Now he's chosen a niche in the fitness industry. This allows him to focus on a single subject and become an expert in this arena. He is now the go-to person in this field instead of being a generalist competing with every other copywriter out there.
Having a clear career plan early on is one thing Steve would change if he could do it over again. Here are four other things he wishes he had done:
He would establish a website and market himself proactively.
He would take advantage of the many offers of help and willingness to share from other copywriters on how to accomplish certain things instead of trying to learn everything from scratch on his own. He discovered you just have to ask for help and it's there.
He would join a mastermind group earlier to share encouragement, thoughts, and ideas on progressing.
He would have interacted more with the other COS members that were going through the program at the same time he was by developing a peer review group and discussing the weekly lessons.
In March of 2009, he made the big leap of faith and went to copywriting full-time. He was nervous, but he'd set aside a nest egg to fall back on.
His philosophy that has helped him be successful is "whatever you spend your time doing identifies you."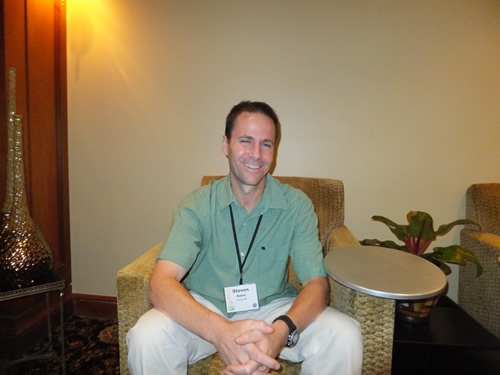 So ask yourself — where do you spend the majority of your time and energy? Are you following a designed path or winging it? 2013 could be your year to make a breakthrough. Learn from Steve and the other successful writers in the AWAI family and take advantage of their experiences. Then you too will have a stable, profitable copywriting career.

The Professional Writers' Alliance
At last, a professional organization that caters to the needs of direct-response industry writers. Find out how membership can change the course of your career. Learn More »

Published: December 6, 2012