Even Santa Needs a Little Help …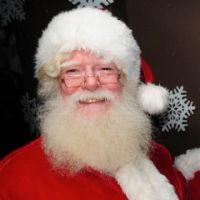 John Sullivan's website only gets heavy traffic two months of the year.
But that's enough to accomplish his primary goal for building it …
… to promote his part-time career playing Santa Claus.
His website is even helping to make him a bit of a celebrity.
He was interviewed by the Chicago Tribune for a story that ran on Thanksgiving and his website is featured in the December issue of Chicago Magazine.
Plus … what would it mean to your business if you were contacted by the ABC TV show 20/20 after your site came up in one of their Google searches?
That's what happened to John. They asked him if he could assist them in finding first-year Santas that they could interview and profile. He's hoping they will mention his site in their segment. If they do, it will be the first national exposure for his site … beyond the search engines, of course.
John, who has been playing Santa Claus for 22 years now, says his website has had a huge impact on his business.
Before his "Santa in Chicago" website, he used to have 10 or 15 bookings as Santa Claus during the holiday season. Now he has over 50 and says he could end up with over 60.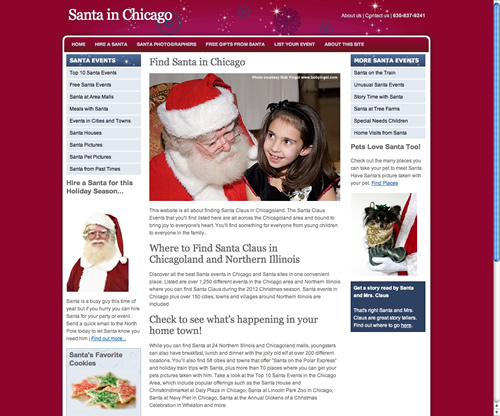 He says he's turning down business "right, left, and center."
"I'm 74. There's a limit to what I can do," he says.
And there's another huge benefit that his website has brought him …
Previously, to book Santa appearances, he had to go through booking agencies … which then took a huge chunk of his revenue as their fee.
Now thanks to his website, he books himself. That means he's earning more money for every Santa job he takes on.
He also has plans to write a book about his Santa experiences and believes his website will give him some added leverage when it comes to finding a publisher. A children's book is also on his to-do list.
His advice to someone considering creating a Money-Making Website?
"A lot of people probably think about how they can make a lot of money. Instead, the first thing you should say to yourself is 'Where are my interests? What really grabs me?' It's what Nick talks about in his program."
The program John's referring to, of course, is Nick Usborne's How to Write Your Very Own Money-Making Websites program, which helped guide him as he progressed along his "Santa in Chicago" website journey.
Do you have anything you do in your life that could use more publicity?
Maybe it's your full-time career or something you do to bring in money part-time. Do you sell Tupperware on the side? D.J. at weddings and other events? Write resumes? Offer computer training? Clean windows? Repair driveways?
Or maybe you have a hobby you'd like to tell the world about? Do you collect coins … stamps … comic books … movie memorabilia? Are you an aspiring artist? Enjoy knitting? Love tropical fish?
Whatever it is, a content-rich website can be your vehicle for telling the world you've arrived.
Do you have something you do in life that could use some publicity? If so, please post your comments here.
Tomorrow's final story is one that most writers will find exciting …
Imagine if all the clients you could handle were contacting YOU, and your biggest problem was finding the time to service them all. It's happening to this AWAI Member, and her story is something you could easily do, too.

How to Write Your Own Money Making Websites
Learn how to write an information website in your spare time and earn $1000, $3000, even $5000 a month in passive income. Learn More »

Published: December 6, 2012