Money Writing About Water?

This week, I'm introducing you to five AWAI Members who are using Money-Making Websites to do more than just make more money (although they do enjoy that perk too!).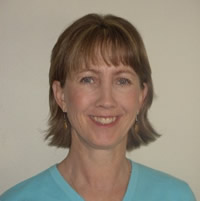 AWAI Member Nancy Hearn has always had a keen interest in water — specifically in ways to combat dehydration, as well as reducing water pollution.
It was this interest that fuelled her passion and motivated her to start her "Water Benefits Health" site in January of 2010.
She loves the emails she receives from people who visit her site. She's heard from people as far away as India who have given her positive feedback about what she's doing. Plus, she's regularly contacted by students and teachers who use the information she's compiled at their schools.
She hopes to one day play a larger role in the world's clean water challenges "through education, travel, or wherever I can make a difference."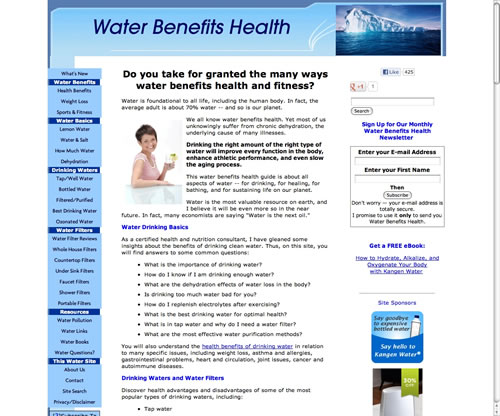 It's helped her in another way too …
In March, she lost her husband of 28 years to cancer. The income from her site made it easier for her to take six months off from her career as a Certified Health and Nutrition Consultant in order to care for him during his final few months and then to deal with major life changes after his death.
Her site currently brings her in anywhere from $1,000 to $3,000 a month. "It's been a source of semi-passive income with minimal ongoing effort," she says.
Her goal is to consistently bring in between "$2,500 and $3,000 a month from her site."
"That would make me very happy. I do make that on occasion, however not consistently yet," she adds.
Nancy spends about four to five hours a week on her site, writing at least one new article a week for it.
In addition to the extra income and educating people on a cause she believes, Nancy says she's learned a lot about Search Engine Optimization, Social Media Marketing, and Affiliate Marketing.
Plus she loves the process of writing every week. She finds it's a great way to express herself.
As a firm believer in the Money-Making Website model, she also has plans to start another site down the road.
Have you thought of starting a website to further a cause you believe in? Please post your comments here.
And you won't want to miss tomorrow's issue …
Even though this AWAI Member couldn't pursue her dream job due to a family situation, she found a way to live out her dream just the same.

How to Write Your Own Money Making Websites
Learn how to write an information website in your spare time and earn $1000, $3000, even $5000 a month in passive income. Learn More »

Published: December 4, 2012