AWAI Member Lives Up to Her Full Potential Through Copywriting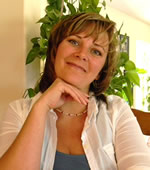 Like many up-and-coming freelancers, Kendy Sproul was working on her writing business in her off-hours from her day job. But then her timetable to live the writer's life full-time was accelerated – she got laid off.
Luckily, by that point Kendy didn't have to find a new job. She was already on her way to making more as a freelancer than her old $50,000-a-year position. And she's enjoying every minute of it.
"Being a successful copywriter feels like freedom to me," says Kendy. "I'm free to use my talents to work with the clients I enjoy and to not work with the ones I don't. I'm free to work as much or as little as I want. I'm free to make as much money as I want – it's limited only by my thoughts and actions, not by someone else's decision."
Kendy is a lifelong writer, though she focused on fiction for a long time. Then she discovered copywriting through AWAI and the Accelerated Program for Six-Figure Copywriting.
"I saw it as a way I could use my writing talent to make some real money. It's very difficult to make a living as a fiction writer, unless you're Stephen King or J.K. Rowling," explains Kendy. "AWAI is the reason I'm have the career I do. My skills and confidence continue to grow with every program I take and every event I attend."
The Web Copywriting Intensive in particular had a big impact, says Kendy. There she met and was able to get a ton of useful advice and information from web writing and social media experts. Plus she met many fellow writers – a built-in support network as she grew her business.
Kendy has truly taken advantage of the freedom this career offers by choosing a niche, travel and hospitality, that she is passionate about. And she's been able to combine it with another interest (she calls it an addiction), social media, by creating campaigns for clients. She also does a lot of web writing, including website copy, sales pages, landing pages, and email/autoresponder campaigns.
Picking a niche kicked her career into high gear.
"When I first started out as a copywriter I worked for every client I could get a yes from, no matter how low they paid," says Kendy. "Now, I have a definite niche and work with clients who know the value of what I bring to the table and aren't afraid to pay for it."
So what does the future hold? Kendy plans to write a new book, an inspirational title about how to overcome your past to create your future centering on advice for helping women live up to their full potential.
"Copywriting has allowed me to realize the potential I have inside myself. It's allowed me to create the career I want and to be the take-charge person I never knew I could be," says Kendy. "It's allowed me to step out of my shell and be the confident, successful woman I am today … and will be even more so in the future."
Awesome, Kendy! Keep us updated in 2013.
For more information, check out Kendy's freelance website: www.kendysproul.com.

The Professional Writers' Alliance
At last, a professional organization that caters to the needs of direct-response industry writers. Find out how membership can change the course of your career. Learn More »

Published: January 17, 2013