A Recent College Grad with a Thriving Copywriting Business

After graduation, most college students consider themselves lucky to land a standard 9 to 5 job. Long commute, cubicle, long hours … that's what the working world is supposed to be, right?
But AWAI member Rae Robinson was plotting her escape from the rat race even before she got in it. And she's now well on her way to becoming the youngest six-figure copywriter in AWAI history.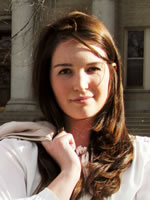 Rae was 20 when she received the Can You Write a Letter Like This One? letter about the Accelerated Program for Six-Figure Copywriting in her inbox. She realized immediately that copywriting had a lot going for it. She could indulge in her love of writing – which she'd been doing since 13, mostly fiction; have a high-paying career right out of college; and enjoy an extremely flexible schedule.
"I launched my freelance career when I was still in college," explains Rae. "But I wrote part time, went to school part time, and did 'student jobs' part time, odd jobs like delivering the newspaper, creating confectionary masterpieces at Dairy Queen, and whipping the ladies shoes warehouse at Macy's into shape."
Things were going well. She'd picked up some work through Elance, Textbroker, and Associated Content. This gave her a file of writing samples to show higher profile clients. The first she landed through Craigslist.
"She was looking for a young writer for her hobby tea company, Physique: Body of Tea … which turned into an opportunity as a staff copywriter for her day job with a plastic surgery educational institute," says Rae. "That gig paid the bills for over three years, and brought me to Bogota, Colombia for working vacation twice."
(Speaking of glicken … the same client let Rae and her fiancé stay in their super-expensive condo in Miami for a week—and toured them around the city in a Ferrari. She was also invited to go to China to tour and work on the tea company, but had to decline because Bootcamp 2012 was the same weekend.)
Rae was hooked on copywriting early on and attending 2012 Web Copywriting Intensive sealed the deal.
"I met my heroes Joshua Boswell and Rebecca Matter, got a check for $1,000 signed by Katie Yeakle, and left San Diego a real copywriter," says Rae. "I don't think AWAI just helped my career … they picked me up and threw me into it!"
These days Rae focuses on her niches of natural health and Christian marketing. Her client roster includes Newsmax Health, Mira Herbals, a cardiologist, and another leading publishing company in natural health. She's currently working on a video script series with Newsmax and hopes to begin some long copy promotions for them soon. With Mira, she's writing direct mail and long web promotions for a variety of all-natural beauty products.
As if that wasn't enough, she's also managing director of the tea company. She manages the emails, blog, and website. And they hope to do a direct mail package and video sales letter soon.
After experiencing so much success in such a short time, Rae's definitely not looking back.
"I originally wanted to have an independent career because I grew up unaware of my serious wheat/gluten allergy, which kept me ill and achy for most of my childhood and teen years," says Rae. "I never knew if I was going to be on time to my job—and often wasn't—because of feeling so nauseous in the mornings. I didn't want to let anyone down. A job that would wait for me to feel better, and be flexible around my school schedule too, was very appealing."
"Now that I have my condition under control, I suppose I could hold down a 'real' job … Nahhh!"

The Professional Writers' Alliance
At last, a professional organization that caters to the needs of direct-response industry writers. Find out how membership can change the course of your career. Learn More »

Published: January 15, 2013