Live: The Barefoot Writer January Issue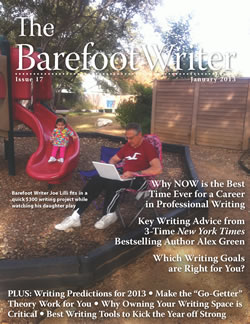 There's nothing like the fresh slate of a new year to revive writing goals, right?
It puts us all back on the same page — erases our tracks in the snow. So no matter what you did (or didn't do) to pursue your writing dream before, here's your chance to get it right.
Our goal is to make that as easy as possible for you. That's why our January issue is packed with vital information, like …
Which writing industries are poised to get bigger in 2013
How to choose the writing specialty that's best for you
Why there's so much power in community for writers
Tips to move your writer's life to "the cloud" so you can travel at will
Ways to boost productivity by changing up your writing space
You'll also find inspiration from huge success stories like Bob Newhart, Hugh Hefner, and Steven Pressfield — all of whom began their careers as copywriters. Plus, your own Barefoot Writer editorial team shares their favorite, must-have tools for productive writing.
Best of all, don't miss our interview with three-time bestselling author Alex Green.
Just think … in a couple of months, YOU could be quitting your day job, or packing your bags for a move overseas — all thanks to embracing life as a professional writer.
Click here to access your subscription.
Not a subscriber yet? Click here to learn more about becoming a member of The Barefoot Writer and start living the lifestyle you want by writing.

The Professional Writers' Alliance
At last, a professional organization that caters to the needs of direct-response industry writers. Find out how membership can change the course of your career. Learn More »

Published: January 4, 2013