Live: The Barefoot Writer February Issue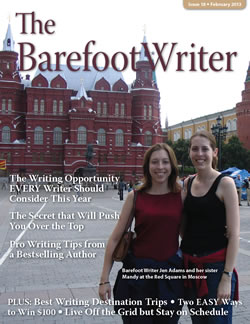 Remember the movie Bambi, and the idea of being "twitterpated"?
That was the wise old owl's word for love at first sight … and it's something a lot of Barefoot Writers felt when they first glimpsed this lifestyle.
But like any healthy relationship, the writer's life will only work if you really put yourself out there … and don't try to be something you're not.
This month's issue helps on both fronts. We've put together key content on …
The year's hottest writing opportunities (you'll DEFINITELY want to know about these)
How to apply prior job experience to your current pursuit of the writer's life
Apps to help you live off the grid but stay on schedule
Empowering advice that proves the world of paid writing is in your reach
Easy-to-use writing tips from bestselling author Alex Green
You'll also love our Featured Interview with Jason Holland, one of Costa Rica's newest full-time residents. Find out how his pursuit of professional writing led him to life in a tropical paradise.
And who knows … that might be your story, just a couple of years from now.
Click here to access your subscription.
Not a subscriber yet? Click here to learn more about becoming a member of The Barefoot Writer and start living the lifestyle you want by writing.

The Professional Writers' Alliance
At last, a professional organization that caters to the needs of direct-response industry writers. Find out how membership can change the course of your career. Learn More »

Published: February 1, 2013