To Celebrate Freelance Writers Appreciation Week We're Giving Away $500
In honor of Freelance Writers Appreciation Week Feb. 10 – 16, which we feel should get a lot more attention, American Writers & Artists Inc. is giving away a $500 gift certificate good for any of its programs.
To enter all you have to do is leave a comment at the bottom of this article telling us about your freelance business. The deadline is Saturday, Feb. 16 at midnight Eastern. From those who comment, one winner will be chosen randomly, with the announcement the following week.
After you enter, we'd appreciate if you could help us get the word out about this little-known celebration of freelancers. Just go to our social media pages and Like, Comment, Post, or Tweet to let the world know you are a proud freelancer.
Let's spread the word as far as we can. On our end we'll be giving shout outs to freelancers who comment below throughout the week on social media.
Why all the excitement?
Usually freelancers work in the background, making big contributions to marketing, e-commerce, marketing, and advertising, not to mention grant writing, publishing, social media, and many more industries. And while editors, publishers, and business owners may be grateful for freelance colleagues like you – and compensate you quite well financially – at American Writers & Artists Inc. we want reward your efforts with public recognition and a chance to win a prize to further your freelance career.
As a hardworking freelancer, you deserve it.
Here are a few more housekeeping notes:
Anyone worldwide over 18 is eligible to enter the prize drawing.
The winner will be chosen randomly by Random.org.
No purchase is necessary.
The odds of winning are based on the number of entries.
Don't wait. Enter the giveaway by commenting below. And be sure to help us publicize this little-known holiday on social media too.
Work with the AWAI Team on a Real Writing Project!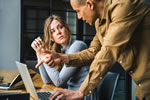 "Simulated Training" is AWAI's newest interactive learning where you get to work directly with AWAI's copy chief on a real writing project.
Not only will you experience what it's like to write for a real client — you'll learn what to do at every stage of the writing process … plus you'll get live personal feedback on your writing.
And right now, we're offering a limited number of spots FREE to members of our highest level of learning.
Go here now for full details …
Published: February 9, 2013