5 Proactive Ways to Make Sure Clients Stay Happy With Your Work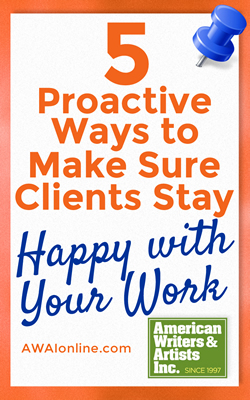 If you're like most writers I know, you'd rather work on a lot of projects for a single client instead of one or two projects for multiple clients.
The benefits are obvious. For starters, it means a lot less self-marketing and prospecting for new projects, which saves you time.
Work with a repeat-client is also easier. You can really get to know their audience, which means less upfront research before you begin each project. You also get a great feel for your client's voice and processes — meaning you can skip the introductory conversation about how you bill, what format they prefer, and so forth.
Now, the best way to boost your chances of continued work with an existing client is to keep that client happy. Here are five proven ways to do that.
1) Over-Deliver, Even by a Little
The word "Free" is a proven motivator when it comes to persuading people to buy things. Hence the popularity of the "Buy One, Get One Free" concept.
Free bonuses hold the same value with your client. But don't think you have to do twice as much work to increase your value. You can impress your client if you over-deliver by even a small margin.
For example, if you're due to submit a headline and lead, you'll certainly want to include your best headline in your project submission. But consider sharing two back-up headlines as well.
Same thing for email: Use your strongest contender, but include a few back-up subject lines.
Or, if you're writing a website for a client, throw in the "Thank You" and "Contact" pages for free. Those pages typically require a lot less work than content-heavy pages, but the client will appreciate the "bonus."
Even adding just a little bit to your proposed services goes a long way in ramping up your perceived value to a client. The more valuable they think you are, the more likely they are to hire you again.
2) Handle Payment Professionally
The worst thing you can do when it comes to a new client and the payment question is to just not talk about it.
Yet, it happens all the time. The writer doesn't ask about a budget. The client doesn't ask about a fee. Then you get into the thick of the project — or even finish the project — and suddenly there's a payment question hanging over your head. You don't want to send a surprise invoice, but it can be stressful to negotiate a fee after a project is complete.
Save yourself the stress and always address your fee before you begin a project. Your clients are running businesses just like you, and they need to plan for expenses upfront.
If you're not sure how much to quote, start by consulting Wealthy Web Writer's Pricing Guide: How to Price and Land the Top 7 Web Copy Projects. If you need further guidance, you can get great feedback from the Wealthy Web Writer Members Forum. Or, try the following:
When it comes to sharing your fee with your client, you can take a hard-and-fast approach:
"My fee for writing a 5-page website is $1,500."
Or a softer approach:
"I typically charge between $1,200 and $2,000 for writing a 5-page website."
The second approach leaves the door open for negotiation. But the best approach is what's comfortable for you.
Once your fee is settled, don't forget to tell your client how you approach billing. For example:
"I'll bill 50 percent upfront, and 50 percent upon delivery."
Or,
"I bill when the project is complete and final edits are accepted." (Best when your project fee is $500 or less.)
The more professional you are in handling payment, the more your client will appreciate doing business with you — and will want to do more.
3) Pitch New Ideas Before You're Asked
Writers have the best intentions when they send a client emails like this:
"Let me know if there's anything else I can do for you!"
Here's a secret: Clients don't love this approach. Because what you're really doing is asking the client to do your work for you. He has to stop and think about what he needs, decide whether your writing skills are up to the task, contact you with the idea, see if you're interested, and then hammer out details like fees and deadlines.
If you'd like to keep working for that client, you'll improve your chances with a proactive statement like this:
"I noticed you publish a weekly e-letter. Below are three topics relevant to your audience. I'd be happy to write them up for you (I typically charge $300 per e-letter). I can have the first one to you by next Friday."
All the client has to do is write back and say "Yes!"
At the very least, it shows the client what you're willing to offer.
Even if your initial ideas and deadline don't work for him, you're still making his job easier, and he can build on your ideas without having to do all the work. Clients like writers that make their job easy.
4) Pay Attention to the Little Things
One of the best ways to keep a client for the long-term is to pay attention to the little things. Formatting is a good example.
Let's say you submit the first draft of your project. When your client returns it with edits, you notice she's done the following:
Changed the font (you submitted in Times New Roman, size 14, but she returned it to you in Arial, size 12)
Renamed the document (you titled your document "Landing page for X Client.doc" but she renamed it "4.2013 ZIP product – Landing Page")
Added a note at the top that tells her more about the project (e.g., "Landing Page for ZIP Product — By [Your Name]")
Those simple changes tell you a lot about your client's preferences. Use that knowledge to your advantage. The next time you submit a project, plug in her preferred font and font size, use her file nomenclature (this client prefers date-product-project in her document titles), and include a project note at the top.
Small favors like these make your clients' lives easier, which reflects well on you.
5) Show Your Appreciation for Your Client's Business
"Thank you" is one of the most powerful phrases in the English language. It's always nice to send your clients gifts or greeting cards to let them know you enjoy doing business with them.
But even a simple email will do: "Thank you for your business. I enjoyed working on that project with you."
You can also include thank you notes within your invoice, and within the email you send to submit your invoice.
People like doing business with nice people. These small favors could make the difference between a client hiring another writer or re-hiring you.
Happy Clients Mean a Long and Profitable Web-Writing Career
Your first focus should be on improving the quality of your web copy. Beyond that, it's the little things that go a long way in helping you outshine your competition.
Put these five tips into practice and enjoy the results of satisfied clients and ongoing work.
This article, 5 Proactive Ways to Make Sure Clients Stay Happy With Your Work, was originally published by Wealthy Web Writer.

The Professional Writers' Alliance
At last, a professional organization that caters to the needs of direct-response industry writers. Find out how membership can change the course of your career. Learn More »

Published: March 27, 2013