6 Faster Ways to Get Started As a
Freelance Writer

As I talked about in this article, it took me years to go from hearing about copywriting to living the writer's life.
If I knew then what I know now, these are six things I would do to skip over those years and go straight to freelancing.
1. Create a freelance website now.
I spent the first few years of my writer's life learning. I didn't have a website, clients, or even a niche. But, once I decided I was going to create a freelance website, I took action to make that a reality.
Building a website for my business forced me to choose a niche, take action, and actually write something – instead of just learning about it. I think creating my website was the best thing I did for my business because it got me moving and made me feel like a professional.
If you're becoming a freelance writer and you don't have a website yet, I recommend making that your next step. It doesn't have to take a long time. With WordPress, you can literally have a website online in a few days.
Creating your own website will give you experience writing, a sample to show clients, and it will give you confidence in yourself and your ability to apply what you're learning. Yes, there will be a few hurdles to overcome, but when you're finished, you'll know that you are a writer, and you can do this.
2. Make a commitment.
One of the best things you can do for your success is to decide you're going to succeed – no matter what.
It took me nearly a year after my article was published on Wealthy Web Writer to commit to making the writer's life a reality. But, once I committed, things started happening. I finished my website, got paying clients, replaced my income, and was able to leave my full time job.
If I had it to do over with, I wouldn't wait so long. I would make the commitment to live the writer's life on the day I heard about copywriting.
Have you committed to success yet? If no, why not?
3. Decide quickly.
In the beginning, every decision took me a long, long time. I literally spent years trying to figure out my niche so I could create my website. Now I realize not having a niche was a convenient excuse for not taking action.
If I could start over, I would choose a niche immediately and build my site now. I wouldn't worry about it too much. I'd just follow the advice that I've heard so many times and get it done. Like all the experts tried to tell me, choosing a niche isn't a life-long commitment and setting up a website isn't permanent.
What decision are you letting hold you back?
4. Start small.
When I first heard about copywriting, I thought I had to know everything and be able to write a flawless 15-page sales letter to get a client. It never occurred to me to start smaller – for instance, with blog posts, articles, or emails.
I spent years learning all about copywriting when I could have been getting paid for smaller projects.
Once I realized I could start with something as low-risk as articles, I did. Writing articles wasn't my ultimate goal, but it got me started and gave me a chance to prove myself to clients. It also helped me get over my fear of action and made me realize the writer's life is real.
If I had a hard time getting started with a new client today, I would use this same advice and start small. I would try to convince them to give me a chance on an article, blog post, or email.
5. Act daily.
I give this advice often, but it's still true. Daily action will add up to success. Do something every day to move your business forward. And, I'm not talking about learning, reading, or studying.
I'm talking about taking real action like working on your freelance website, contacting a potential client, or writing an article to promote your services.
Your daily action doesn't have to be time consuming, but the more you can do each day to reach your goals, the better.
If you're not sure where to start, I recommend making a commitment, deciding quickly (especially if you don't yet have a niche), and creating your own freelance website.
If you do these three things over the next few days, you'll skip years that I spent being uncertain and inactive.
6. Follow proven advice.
This tip may be the toughest thing to do. It was for me. But, now I realize that listening to others who succeeded saves time and frustration. Plus, when you follow others' proven advice, you can spend more time acting because you won't spend so much time making decisions and planning.
What about you? What actions are you taking today? Comment below to join the discussion.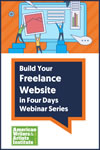 Build Your Freelance Website in Four Days
No matter what niche you're in, if you're a freelancer, you must have a website that showcases what you do. You can launch your own professional website in just 4 days. Experts show you every step. Learn More »

Published: March 21, 2013