Bit By Bit …
By Christina Gillick
Why do we take so long to get started on a project?
I think it's because most of our projects seem too big.
Building your freelance website, which we've been discussing this week, is the perfect example. You might think there's so much to do that you'll never finish, so you keep procrastinating.
Before you realize it, it's been a year (or two). That's how it was for me.
I looked at the project, saw it as a giant hurdle, and put myself back in learning mode.
It wasn't until I attended AWAI Co-Managing Partner Rebecca Matter's Build Your Very Own Freelance Website webinar series that I realized I didn't have to do everything at once. Just a few small actions each day would add up.
I could take it bit by bit.
Your freelance website could be broken into small, 30-minute tasks, for example:
Write the rough draft of your home page copy (which is also great practice for working with clients).
Revise your home page copy.
Write another page of copy for your site (for instance: the about page, the FAQ page, or the contact page).
Revise the copy from one of your other pages.
Send an email to friends, family, and co-workers asking for testimonials or character references.
Buy your domain name.
This isn't a complete list, but if you break your project into smaller tasks and do one task each day, these smaller actions will add up, and you'll be finished in a few weeks.
Today I challenge you to take action. Make a plan to create your own freelance website. Don't worry about the technical side of things just yet … For now, focus on what you'll include on your site.
Write down everything that has to be finished and then spread it out over the next several weeks. Commit to taking action on your project each day and you'll soon see progress. If you're not sure where to start, review this article I recommended yesterday: How to Plan out Your Freelance Website Content in under an Hour.
Comment here to let us know about your big project and how you plan to take it bit by bit.
Tomorrow we'll talk about other reasons you need a website. In the meantime, check out "6 Faster Ways to Get Started as a Freelance Writer."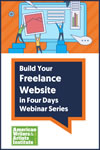 Build Your Freelance Website in Four Days
No matter what niche you're in, if you're a freelancer, you must have a website that showcases what you do. You can launch your own professional website in just 4 days. Experts show you every step. Learn More »

Published: March 21, 2013