Can You Do This if You're a new Writer?

Ed Gandia here, talking about "warm email prospecting" this week at The Writer's Life.
Warm email prospecting is the art of "warm calling" prospects with short and inviting email messages – as opposed to "cold calling" them out of the blue.
This strategy has been a game-changer in my business because it has simplified the process of getting clients. It's made this activity far less intimidating and much more "doable."
If you've missed the detailed videos and resources I shared with you Monday, Tuesday and Wednesday, make sure to check those out. You'll find a bunch of actionable tips there.
Today I'll address one of the most common questions I get about this strategy:
"Can I do warm email prospecting even if I'm a new writer?"
The short answer is … absolutely!
Warm email prospecting is a very flexible approach to prospecting. As long as all the necessary elements are in your email, your message will stand out.
Let me be clear: You do NOT have to be a seasoned pro to craft powerful warm emails. In fact, if you're a new freelancer, this strategy is one of the best ways to kick-start your business.
And to explain why, I need to take a step back and talk about how freelancers generate new clients.
There are only two basic prospecting approaches:
Inbound (where you get prospects to come to you).

Outbound (where you proactively reach out to potential clients).
Get Them to Come to YOU
Inbound marketing involves creating a client attraction system. And you do that by positioning yourself as an expert, as the go-to person in your niche or industry.
This can involve some combination of blogging, writing articles, writing a book, public speaking, focused networking, search engine optimization (SEO) and other similar tactics.
Over time, your goal should be to have 75% or more of your prospects come to YOU.
But here's the reality. Inbound marketing takes time to bear consistent fruit. I've found that it takes at least three years of hard work and steady effort to get to that point.
There's also a slight disadvantage to this approach. When prospects come to you, you don't get to handpick them.
Handpick the Best Prospects
The other type of prospecting is outbound prospecting, when you actively contact prospects. Warm email prospecting falls into this category.
When you're starting out, most (if not all) of your efforts should be on outbound prospecting.
The biggest advantage of outbound prospecting is that YOU are the one in control. You get to direct and adjust your efforts based on your goals, needs, preferences and available time.
So what's the right approach to take? First, take a look at where you are in your business life cycle and determine what your ideal inbound/outbound mix should be based on where you are today.
As your business progresses, you'll want to continually adjust this inbound/outbound mix to reflect where you are and where you want to go.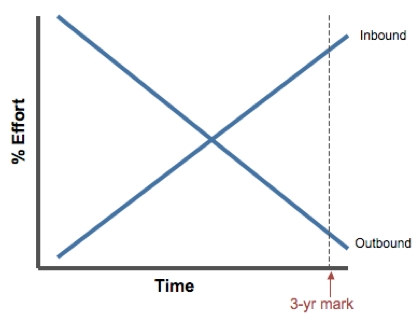 Here are my suggested outbound prospecting ratios:
You're just starting out: 100% outbound.
You have some clients but most are low paying: 75% outbound.
You've reached a comfortable income level but are still in growth mode: 50% outbound.
You're consistently hitting your income goals, but you can't yet completely depend on inbound leads: 25% outbound
You've reached critical mass; you could realistically sustain your income goals with incoming leads alone: 5% – 10% outbound
As you can see, the important thing is to employ the right mix based on where you are today, and to keep adjusting that ratio as you business progresses.
Tomorrow, I'll show you how your prospecting emails can stand out, even if you don't yet have much experience as a freelance writer. So stay tuned!
But in the meantime, if you have any questions or comments about this strategy, please post them here. I'm keeping an eye on these pages all week and answering your questions.

The Professional Writers' Alliance
At last, a professional organization that caters to the needs of direct-response industry writers. Find out how membership can change the course of your career. Learn More »

Published: March 7, 2013