Join Me On April 15 …

Boy, did I get it wrong! And in more ways than one.
When I switched my niche to fundraising, I decided to remake my website from scratch. I also wanted to add my own personal blog to it. I figured those two items were two distinct things to accomplish.
Being an old-fashioned, chronic do-it-yourselfer, I thought the best way to do this was to rebuild the website from scratch myself. And once I had the website perfect, I'd add the blog. Seemed the logical way to do it.
Did it work? (Hint: Look at my first sentence.)
First off, the software I thought I should use cost $400. Now if I were a professional web designer, that's not a bad price. But just to make my website? I looked at other alternatives. Their prices were better. From free to around $200. But most of the free ones were impossibly complicated (with one exception I'll get to in a moment).
And the pay ones? I ran into trouble trying to navigate ideas like PHP, CSS, XML, and stuff like that. Don't worry if you don't know what those mean or how they work. I didn't. And more important, I didn't want to waste my valuable writing time trying to learn about them.
I gave some thought to hiring someone to remake my website. But my do-it-yourselfer soul wouldn't let me. Plus, I wanted control over how it looked and the content. And I wanted to be able to update it when I needed to.
It was all so overwhelming that I decided the best track to take was none. I decided to stick with the outdated website I'd had for 10 years.
A way out of the overwhelm …
Then I got a message from Katie a couple of weeks ago about a webinar AWAI is offering in April. It's called Build Your Freelance Website in 4 Hours.
Katie asked me to tell my Golden Thread readers about it. But when I read the information … that's when I knew I'd "blown it" with my approach to my own website.
This webinar has everything I need to rebuild my own website the way I want it. But more important, it'll let me craft it the way it needs to be so I can succeed in my newly-adopted niche.
Rebecca Matter hosts the four webinar sessions April 15-18th at noon ET. You can bet I'll be there. And I'd love to 'see' you there, too.
If you join me, here's what we'll learn in these information-packed 4 hours …
Session One (Monday 12-1 p.m. ET)
We'll be given a "crash course" in what a professional freelancer's website should look like. Rebecca's guest presenter — Nick Usborne — will teach by example (not just theory) what makes a great website. He'll also show us the not-so-good ones so we'll know what to avoid.
Session Two (Tuesday 12-1 p.m. ET)
Rebecca will show us all about the web content we need to ensure our websites attract the clients we want. She'll lead us through how to write the content so we look like experts (she even covers what to do if you have very little experience and very few, or no, samples).
Session Three (Wednesday 12-1 p.m. ET)
I've had my own domain name (like myname.com) for a number of years. You'll want one, too, so you can present yourself and your site professionally. In this session, Rebecca will lead you through everything you need to know to get that name, including all the steps to get the technical stuff in place: platform, navigation, hosting options, and more. (Don't worry, if you don't understand these terms now, you will by the end of this session.)
Session Four (Thursday 12-1 p.m. ET)
When you get right down to it, this session is what it's all about. This is where Rebecca helps us pull together all the information and strategies we've learned into our own freelancer websites. When we're done, we'll be able to watch our brand-new websites go "live."
Even more great stuff for us …
AWAI always adds a "little bit more" to their offers. And this webinar is no exception.
So, true to form, when you sign up, you'll get three special bonuses …
Bonus #1
Our first bonus is a special "Content Essentials Guide," which Rebecca created especially for this webinar. It tells you specifically all the different kinds of content our websites should have. This isn't generic information that applies to any website. This is info that's specific to your freelancer website. It doesn't matter what niche you're in: copywriting, resume writing, design, B2B, publicity, info-marketing … whatever it might be! You'll get the info you need.
Bonus #2
You'll want to make your website more attractive … more engaging … more successful than other freelancers out there. And that's what your second bonus will let you do.
Your second bonus is AWAI's special "Website Acceleration Guide." This guide shows precisely how to add special features to your website, features like custom headers and special themes that let you hook up to social media sites. It shows you how to set up your own blog … even ways to gather opt-in names so you'll have an invaluable "house list" of prospects to contact over time. (As I mentioned, setting up my blog was one of my goals for my new niche website, so this will help me.)
A special Bonus #3 just for you …
Your final bonus is one I'm sure you'll be very excited about.
This bonus is a complimentary review and critique of your website's design and content. You'll get the review after it's been up and running a few weeks so you have time to do any tweaking you want before getting it reviewed. The review comes with complete, detailed written recommendations for improving and strengthening your site!
This is a time-intensive commitment on AWAI's part. For this reason, they're strictly limiting the number of participants in the Build Your Freelance Website in 4 Hours webinar series.
I'm really excited about getting my new website reviewed. I'll finally have experts on freelance website composition telling me what I'm doing right … and what I need to tweak. No more doing it on my own and hoping it works. Now I'll know I have the strongest, most effective website I can have!
A few incredibly important details …
This is a live webinar. But what if you have to miss a session or two? (Like I might, with my tutoring commitments.)
No problem.
Every minute of the webinar will be recorded. If you miss a session — or if you want to go back and review its many strategies — you have full access to the series online … at any time and as many times as you want … forever!
Here's another benefit of committing just four hours of your time to this webinar. Once you've mastered building your own website, you can use your expertise to build websites for clients … family … friends. For a fee, of course!
And what if …
Remember how I told you the best-known website building software cost $400? When I thought I might plunk that money down and use it, I tried a sample first.
No way would I ever be able to learn it in fours weeks, let alone four days. It's way too complicated. If I decided to use it, I'd have to spend at least $100 on self-instruction books. And with no guarantee of ever being able to learn it well enough to get my website built exactly the way I wanted.
That brings up the whole idea of guarantees. That well-known, expensive software I thought about using came with absolutely no guarantees. Over $400 and no guarantee!
But as you'd expect from AWAI, you're fully protected when you enroll in the Build Your Freelance Website in 4 Hours webinar series with an absolute, no-questions-asked one full year guarantee.
The cost of the webinar is significantly less than the cost of the software and instruction books I almost wasted my money on. Plus … the webinar series comes with access — at no additional cost — to the easiest to use (and one of the most popular) web-building applications you can get (with versions for PCs, Macs, and even Unix systems).
Just one thing left to do …
There's really only one thing left for you to do. Join Rebecca (and me) for four hours in April and get your freelancer's website up and running.
There's a lot more I could say about this valuable webinar series. But I'd rather have Rebecca tell you herself. Just click this link for more information.
And if you've already decided to join me? Click here and sign up right now.
But don't wait. Like I told you, AWAI is strictly limiting the number of members who enroll. In this way, AWAI ensures that you'll get the most detailed review and critique of your website possible.
It could be yours!
I hope to see you at noon on April 15th.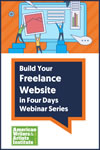 Build Your Freelance Website in Four Days
No matter what niche you're in, if you're a freelancer, you must have a website that showcases what you do. You can launch your own professional website in just 4 days. Experts show you every step. Learn More »

Published: March 18, 2013