Our Parents Were Right!

Yesterday I talked about the moment everything changed for me: the moment I decided to take real action and put my freelance website online.
If you're still not convinced, I have a theory that might help …
When we're young, we don't want to listen to our parents. We think they're spoiling our fun or holding us back.
Then, one day we wake up and think, "Wow! My parents were right! They were just trying to pass on the knowledge they already learned so I could benefit from it. Oops. I wish I would have listened."
Those who have come before us know things. They try to teach us lessons that will help us skip ahead. They say things like, "Choose a niche – any niche" and "You need a freelance website."
But, it's tempting not to listen; to think that you can do this without a website. But, really you need a website because:
You need a place to show your skills.
You need a way for clients to find and contact you, so you're not always chasing jobs.
A website is a perfect sample of what you can do for your clients.
Adding a blog to your website is a great way to blog about what you're learning.
I had to learn the hard way and experience it for myself. For me to believe it, I had to take that leap of faith, launch my site (and myself into the world) and see that it was okay.
Now I realize all the advice I received was right, and I desperately want to pass it on to other new writers … I don't want you to make the same mistakes I did.
That's why, tomorrow, I'll share the easiest way to get moving on building your freelance website if you don't have one yet. I hope you'll listen and take my advice.
Please comment here to let me know what's holding you back.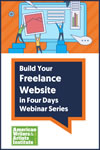 Build Your Freelance Website in Four Days
No matter what niche you're in, if you're a freelancer, you must have a website that showcases what you do. You can launch your own professional website in just 4 days. Experts show you every step. Learn More »

Published: March 19, 2013