The Moment Everything Changed

Fellow writers often ask how long it took to get my first project.
"Far too long" isn't helpful, so I recently dug through my old emails to create a timeline of my journey …
Yes, it did take me too long to get my first paying project. I also found the moment everything changed, and discovered how I could have done things differently to have more success, sooner.
I left my full time job in August 2012. Since then I've more than replaced my full time income every month. But I had been striving towards the writer's life since 2009. I'd had articles published, and worked on a few small projects. To be honest, I was scared to reach out to clients and market my services.
It wasn't until I signed up for the Build Your Very Own Freelance Website webinar series that my career really went into high gear. It had a competition (with a deadline), so I knew it was the perfect thing to push me to take action.
In August, I won the 2011 Build Your Very Own Freelance Website Competition!
I remember the way I felt when I launched that website. I was terrified someone would find it and want to hire me, but I knew I couldn't hide forever. My site was live, and there was no turning back now.
Once I had a complete website declaring I was a writer, I believed it myself. I started reaching out to clients and getting assignments. For the next year, on evenings and weekends, I lived the writer's life.
The truth is I didn't feel completely ready when I launched that site. But, if I wanted this dream to become real, I would have to take action sooner or later.
This week we'll talk about how I got ready, took action, and launched my website into the world.
I'll also reveal my "secret to success." I mentioned it a few times already. If you think you know what it is, comment below.
Tomorrow we'll talk about how our parents were right – even if we hate to admit it – and what that has to do with the writer's life …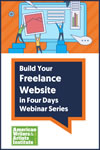 Build Your Freelance Website in Four Days
No matter what niche you're in, if you're a freelancer, you must have a website that showcases what you do. You can launch your own professional website in just 4 days. Experts show you every step. Learn More »

Published: March 18, 2013