Your Next Step

This week we talked about one of the main ways I built my freelance business. Like I mentioned, my business didn't start growing until I started taking action.
The first real action I took was getting my freelance website online. This is a step anyone can take, and that's why I recommend doing it now, if you don't yet have your own freelance website.
Here are seven reasons why you need a freelance website:
Having a professional website that says you're a writer will make you feel like a professional writer. This is a great confidence booster.
Your website is the perfect way to practice your writing skills. Plus, when you're done, it's a great sample to show clients. Most clients don't even ask for other samples once you have a professional freelance website online.
The accomplishment you'll feel when you launch your website will make you want to do more.
Clients will expect you to have a website, and they'll want to see it.
When you have a website, your potential clients can learn more about you immediately. They won't have to wait for you to get back to them to tell them more.
A website will make marketing your business much easier because it gives you a place to focus all your online efforts. Before I had a website, my social media efforts were somewhat wasted because there wasn't a way for people to learn more about me – or hire me if they wanted.
A freelance website will put you "on the map." Launching my website meant I really had a business. My doors were open, and there was no turning back.
If you don't have your own freelance website, I recommend going here right now to get started.
If you already have a freelance website, let's talk about it. Please share your story of building your freelance site in the comments here.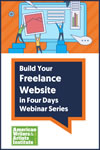 Build Your Freelance Website in Four Days
No matter what niche you're in, if you're a freelancer, you must have a website that showcases what you do. You can launch your own professional website in just 4 days. Experts show you every step. Learn More »

Published: March 22, 2013