WANTED: A Marketer Who Can Hit It
Out of the Park
AWAI IS EXPANDING ITS MARKETING TEAM
"Don't bunt. Aim out of the ball park. Aim for the company of immortals."
David Ogilvy
American Writers & Artists, Inc. (AWAI) is looking for an experienced marketer to work with us in our Delray Beach headquarters.
How do you know if you're a good fit for our group?
You live and breathe direct-response marketing (online and/or off). You love everything about it – the copy, the offers, the lists, the tests, the campaigns … and most of all – the results!
You love winning … especially when winning translates directly to increased profits.
You're curious about every subject under the sun.
You read more than anyone you know.
You have a good sense of humor.
You care deeply about helping people change their lives by developing skills that lead to financial security, independence and freedom.
Legendary adman David Ogilvy's quote sums up the kind of person we're looking for to join our fast-paced marketing team. Someone with drive and vision and the know-how to be a major player in our company.
If that's you, write a letter about yourself and why we should hire you. Be sure to include any experience you have with various marketing channels – from pay-per-click and social media, to direct mail and online advertising.
Send it to Melanie VanNuys at mvannuys@awaionline.com along with your resume, and any salary requirements.
Good luck!
Biggest Career-Boosting Event of the Year!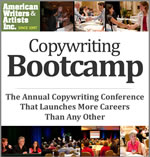 Get million-dollar industry secrets and cutting-edge techniques straight from the experts who created them …
Network with fellow writers of all levels and build a support team to keep you motivated and on track …
PLUS land new clients – or your first client – at our ultimate job fair for freelance writers …
Join us for our biggest writer's event of the year to get all this and more!
Published: April 12, 2013