AWAI Welcomes Jen Adams to the Team
as In-House Copywriter
Welcome, Jen Adams – AWAI's new in-house copywriter!
Jen has been an AWAI member for almost 10 years and full-time professional copywriter since 2008. She's been living the writer's life … with a home bases in Cuenca, Ecuador for several years and then most recently Austin, TX. We're happy to have her in our Delray Beach headquarters now.
If you've ever been to one of our FastTrack to Copywriting Success Bootcamps, you might recognize Jen. Since going full-time as a copywriter, she's been a regular visitor to the events to hone her writing skills and client-getting tactics, as well as to network with the marketers looking to hire AWAI-trained copywriters.
Jen, a self-described "copy geek," is off to a running start, eager to apply her years of experience as a writer and AWAI member to her new position.
"The job with AWAI lets me work with some of the best writers in our industry to deliver some of the most valuable programs out there for teaching writing skills. I've done the programs, and I have absolute confidence in their quality," says Jen. "I know I'll have a lot to live up to when it comes to delivering great copy. The challenge of the high standards of the AWAI team and the opportunity to work with such good writers as coaches and mentors was just too good to pass up."
Your Path Now Versus What it Could Be: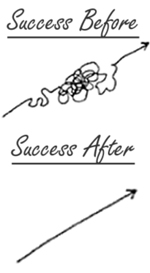 Nothing gives you a "straight shot" at success like Circle of Success.
We help you set goals … give you a personalized learning path … coaches and mentors … prime writing assignments … feedback from real copywriters … free Bootcamp, with VIP treatment … even a chance to work pro writers … and more.
Right now, we're accepting a limited number of new Circle of Success members.
Get the details here — including our low "get started" price.
Published: May 6, 2013