Free Call:


Bootcamp Revealed!

On Tuesday, May 14th at 3pm EST, Joshua Boswell is going to hold a rather unusual conference call with Katie Yeakle and Rebecca Matter.

The reason for this call is to grill, press, prod, dig, and otherwise extract from them all the juicy surprises they have been cooking up for the 2013 Bootcamp …

As well as get the insides scoop on what REALLY goes down at what has become known as the copywriting event of the year.

This year they're promising to make Bootcamp bigger, better, and more profitable for you than ever before.

So, Joshua pulled some strings and got Rebecca and Katie to agree to do a conference call with him. During the call, he'll ask them tough and direct questions about Bootcamp.

And you're invited to listen in on the grilling session!

During the call, he'll ask them things like …
What new and exciting things are being added to this year's event … (apparently they're really pulling out all the stops this year!)
Who made the final list of copywriting and marketing experts taking the stage this year … (wait until you hear who the keynote is going to be!)
What the plans are to make this year's Job Fair even bigger and MORE PROFITABLE for attendees … (you could actually walk away from Bootcamp with a paid assignment!)
How they plan to ensure each and every session is worth the full price of admission … (each session!!)
And much, much more!
It's going to be a very exciting, very fun, very personal conversation.
You can listen in and be among the very first who find out all the secrets, insights, and juicy dish on AWAI's Copywriting Bootcamp.
The call takes place Tuesday, May 14th at 3pm and we'll make a replay available at 8pm and 10pm … all EST.
Learn more and grab your free spot here.
There is also a valuable bonus for you if you sign up that will help you move ahead faster in the old "getting clients game." So sign up now!
Biggest Career-Boosting Event of the Year!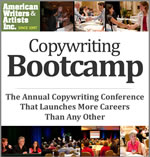 Get million-dollar industry secrets and cutting-edge techniques straight from the experts who created them …
Network with fellow writers of all levels and build a support team to keep you motivated and on track …
PLUS land new clients – or your first client – at our ultimate job fair for freelance writers …
Join us for our biggest writer's event of the year to get all this and more!
Published: May 12, 2013