A Money-Making Website Launches this AWAI Member's Writing Career
Glenda de Vries used to be a Registered Nurse. Now, she's a freelance writer and webmaster … and she no longer does shift work.
"There are days when I have lots of time to work on my website, and then there are weeks that I can't because I have strict writing deadlines, or I am on one of my numerous vacations," Glenda says. "My job as a freelance writer and a webmaster allow me the freedom to do everything I want to do in life. I love my website because it continues to grow even when I'm not working on it."
Glenda chose to create her website around the topic of menopause because she "wanted to learn about healthy aging in a natural way." She chose Nick Usborne's How to Write Your Own Money-Making Websites program to teach her about building that website.
"I have to thank Nick Usborne and AWAI for helping me set up a successful website right from the start. My website currently has a PR rating of 3, which is quite good for a small business website … I have over 500 visitors a day."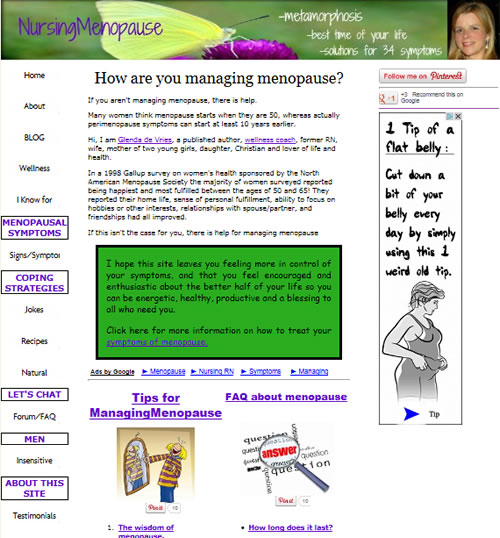 In addition to www.NursingMenopause.com, Glenda is a published author. Her fiction book, Passionate Immigrant, is sold on Amazon.com. She also writes for several magazines and is a health columnist for a bimonthly newspaper.
She's currently working on a second book that will be promoted on her website.
"So not only does my website provide a supplemental income, it also assists in launching my writing career," she says.
Do you have a money-making website success story to share? If so, we want to hear all about it. Submit your money-making website success story by filling out the form here.

How to Write Your Own Money Making Websites
Learn how to write an information website in your spare time and earn $1000, $3000, even $5000 a month in passive income. Learn More »

Published: May 26, 2013