Painting for Profits … and More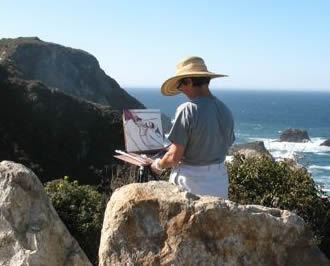 AWAI member Suzanne Elliott has been painting in the "plein air" tradition (painting outside) since 1997. In 2007, she embarked on a quest to paint outdoors, on location, in each of the 50 United States.
Her "Paint the 50 States" quest quickly revealed another money-making opportunity, and she began writing her website, www.PleinAirMuse.com, in 2010.
"I felt this website would fill a niche that hadn't really been filled, and there were certain aspects that nobody had ever done," she says. "It's breaking even and making a little bit each month right now. It's not really a big profit center at this point, and that's OK. I get a lot of enjoyment out of it, and I know that if I keep going with it that it will eventually provide some extra income — not just to pay for the art stuff but also to fund some travel."
So far, Suzanne has painted plein air in 14 different states. And it's in traveling that she has enjoyed one of the biggest non-monetary benefits of her website.
"When I go to these new states to paint, even though I've never been there before, it's like I have this instant community of other artists," she says. "Some have seen my website, and I'm given the royal treatment … It's just great!"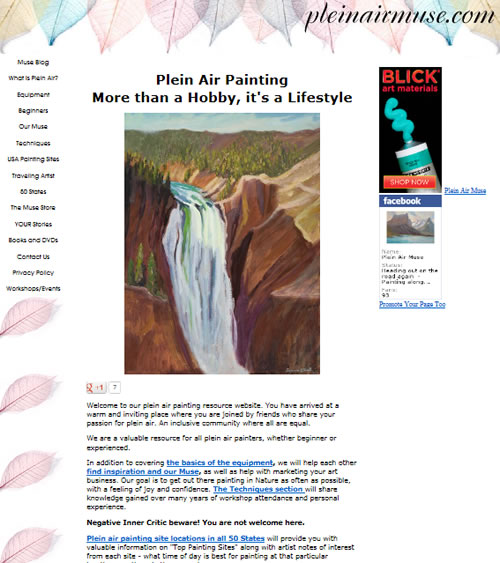 She credits her success with her site to the good advice of Nick Usborne, creator of the How to Write Your Own Money-Making Websites program, about taking the time to plan and pick the right niche topic. She initially thought the site might be about 20 pages of content … So far, she's written 88 pages, and still has plenty more to do.
"If you're going to do a website where you're going to make some money — and if it's a website about a niche or a hobby — you'd better be sure you're really passionate about it," she says. "Because if you're not, you're going to run out of interesting stuff to tell people … People can tell when you don't have passion for something, and they get turned off by it."
Suzanne's website averages about 150 visitors a day, and it attracts people from about 60 different countries. The biggest readership is from the United States, and then China. But people from Malta, Mongolia, and Estonia also have found www.PleinAirMuse.com.
"Imagine someone from Mongolia checking out my website," she says. "It's fun!"
Suzanne sums up her experience with her money-making website this way:
"I'm not one of these people who are making $7,000 a month from my website. That would be lovely, and it may happen eventually. I'll be grateful if it does. But in the meantime, I'm perfectly fine with what I've got going. I'm glad I did it."
Do you have a money-making website success story to share? If so, we want to hear all about it. Submit your money-making website success story by filling out the form here.

How to Write Your Own Money Making Websites
Learn how to write an information website in your spare time and earn $1000, $3000, even $5000 a month in passive income. Learn More »

Published: May 29, 2013