Raise Your Glass to this AWAI Member
As an Assistant Professor of Communications, AWAI member Rick Lindner was frequently asked for advice on delivering Maid of Honor or Best Man speeches.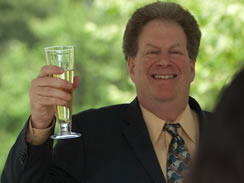 He would often give some quick verbal tips or send a brief email, but he felt this was doing the person asking for help a disservice.
His days of "disservice" are certainly over. Rick built www.WeddingSpeechDepartment.com with the step-by-step help of Nick Usborne's How to Write Your Own Money-Making Websites program.
"It's a wonderful program," Rick says, "especially for people like me who had no idea whatsoever of how to create a website."
And Rick says the Internet is the ideal medium for sharing his tips and advice.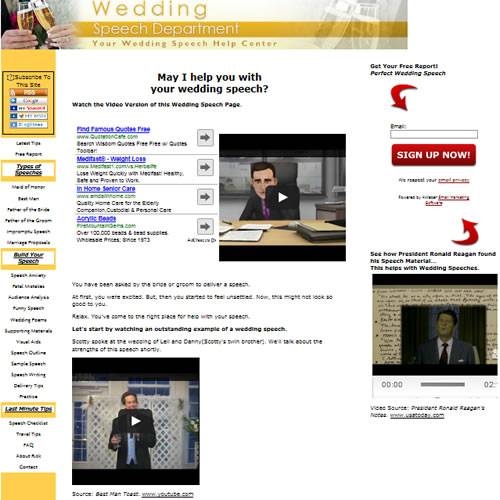 "Websites are a wonderful way to share your passion and help others," says Rick Lindner. "I can't believe that I was able to start with a few wedding speech suggestions and create a website that has been visited by several thousand people."
Now, Rick has helped thousands of people successfully deliver wedding speeches and is quoted on other websites as well. He also enjoys a "celebrity" status in his community due to stories published about him on his college's website and in the local newspaper.
"Yes, I got a kick out of seeing my picture in the newspaper!" he says.
Rick receives a little extra "fun" money each month from his site, but that's not why he does it.
"My goal was never for this website to be a full-time career," Rick says. "I really wanted it as an outlet to help those faced with the fear and uncertainty involved with delivering a wedding speech."
Do you have a money-making website success story to share? If so, we want to hear all about it. Submit your money-making website success story by filling out the form here.

How to Write Your Own Money Making Websites
Learn how to write an information website in your spare time and earn $1000, $3000, even $5000 a month in passive income. Learn More »

Published: May 25, 2013