Eliminating the Eye Stutter from
Your Email Copy

How many times do you start reading an email you were genuinely interested in, but quickly lose focus?
You probably encountered a series of "eye stutters." These are roadblocks that interrupt the natural flow of copy, causing you to stop frequently and work harder to read the piece — and they're DEADLY to your emails. Your prospects won't even finish reading your message, let alone take action and click through.
Why? Because your readers simply won't stick with something that doesn't move smoothly from one thought to the next. They don't have the time. If it's bumpy, choppy, and filled with eye stutters, they'll click away. Case closed.
So how do you eliminate these nasties? Here are three tips to help you smooth out your copy and make it as easy as possible to read …
Don't Use the Same Word or Phrase Twice in Close Proximity: This is one I see all the time from my email copywriting students.
They'll use a word or phrase twice (or even three times) in the space of only a couple of sentences, causing the eye to stop when it reaches the second instance. The reader thinks, "Didn't I just read that line?" So they're forced to re-evaluate, see that it's a different usage, and move on.
Even though it happens in a virtual blink, it still interrupts the flow of your copy, causing a disruption in what you're ultimately trying to do — get them to click.
Here's an example:
"And, like the Mississippi, now that it's up and running, the income flows and flows. It reminds me of the income flow some people have found on the Internet. The Internet, of course, is ideal for income flow … "
Yikes. Three instances of the phrase "income flow" in one paragraph. Talk about a speed bump.
I would rewrite the section something like this:
"And, like the Mississippi, the income flows smoothly, 24/7. That's the way the Internet works. Easily producing passive profits every day, all day."
As you can see, I took out the roadblocks and made it easier to read. And better yet, the whole idea of passive income is clearer too.
So if a word or phrase doesn't "look" right in your copy for ANY reason, change it immediately. It can make a huge difference.
Take Out Unnecessary Words: If there's one thing that can ruin a good email quickly, it's clutter …
Remember, we're trying for smooth, easy to read, eye-stutter-free copy here. Which means if you can chop a few words from your sentences (like "that" or "it") to make them shorter and simpler, then by all means do it.
Tighter copy reads faster and with more punch, so make sure you always edit before sending your copy to the client. This only takes a few minutes, but can make a tremendous impact on readability.
Here's another example:
"Register here and now and not only can you hit the road to happiness immediately, you can save a hundred bucks on Course One."
All the "you's" and "you can's" have cluttered this sentence up. Here's what I would do to make it cleaner and sharper.
"Register now and save a hundred bucks on Course One, guaranteed to help you hit the road to happiness faster and easier."
See? With just a few seconds of work, I took out most of the bumpiness and made it much more consumable.
Read Your Copy Out Loud: This is so powerful, but I see very few copywriters doing it …
Remember that our copy is virtually speaking inside someone's head. So there's a voice — a clear, discernible voice — that's being heard. And by reading your copy out loud, you'll actually hear that voice and how it sounds to your reader.
Rule of thumb here is, if you stumble over something while reading it with your own voice, the prospect will stumble as well when they hear it in their head. This helps you eliminate those places in your copy that "snag" the flow and disrupt their attention.
Take these three tips and implement them into your email copy right now. You'll instantly start crafting clearer, more effective messages for your clients and your own products. If you have any questions or comments feel free to share them with me here. And keep an eye out for tomorrow's email, where we'll wrap up the series with some important tips on how to build a "bridge of trust" between marketer and prospect.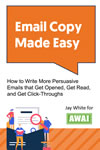 Email Copy Made Easy: How to Write More Persuasive Emails That Get Opened, Get Read, and Get Click-Throughs
Learn to write emails that drive people to take action, and take advantage of the fastest way to make a living as a writer. Learn More »

Published: June 13, 2013