Getting the "Lean In" With Your Email Copy

Jay White back for Day Two of The Writer's Life. This week, we're talking about writing more effective emails.
When marketers ask me for the one single element that will make or break their email copy, I can basically sum it up in two words:
I call it the "Lean In." And here's how it works …
Imagine an early morning gathering at your workplace. Might be the water cooler, coffee machine, or munchie stop — any location where a few people come together for a couple of minutes before heading off to their desks.
Now picture yourself walking up and saying these words: "Oh man, you wouldn't BELEIVE what happened to me on the way to work today."
What's the immediate response? That's right — everyone gets quiet, stops what they were doing, looks directly at you …
… and LEANS IN.
Why? Because with that one line, you've completely set yourself up to continue with something interesting … something that will engage your audience for the next few moments and keep them there.
Could be funny … sad … shocking … revolting. It doesn't matter. What DOES matter is that you've got their complete attention in the palm of your hands. And it's yours to do with as you please.
Why? Because the human condition is also a nosey one. When somebody intimates that they have the "scoop," we automatically listen to see what's going on. We can't help it!
This is simply the most powerful tool you could ever use for creating sizzling-hot email copy that engages readers and keeps them from deleting. And it's EXACTLY what you should be doing in every email you write.
Here are a few resources you can tap to help you get the "Lean In" …
Personal Experience: The "you wouldn't believe" statement from above is a great example of this. But you can modify that to virtually anything going on in your life. Think kids, spouse, work, church, your mood at the time, whatever. Hint that you're going to pull back the curtain and give someone a peek and they'll almost knock you over to see inside.
Cultural Icons: This is one of my favorites, because cultural themes tend to grab the reader's interest immediately and hold them tightly. References to popular movies, TV shows, songs, etc., in your emails bring about nostalgia — and nostalgia sells. But always make sure they're something that most everyone can relate to or understand. For example: Star Wars, Jaws, Rocky, all iconic. That indie-film you saw in college? Not so much.
Topical Issues: A virtual treasure trove here. Between celebrity meltdowns and the latest reality show controversy, there's more Lean-In fodder in this category than you could ever want. And the best part? It just keeps coming and coming. But always stay away from politics and religion unless you want to alienate a massive chunk of your audience.
So if you want to grab the attention of the reader and keep them engaged throughout, take advantage of your reader's curiosity and get your audience "leaning in" ASAP! If you have any questions or comments for me, you can post them here. And make sure you watch your inbox for tomorrow's email, when I'll reveal my secrets to getting more click-throughs (and making more sales).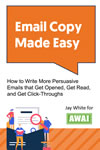 Email Copy Made Easy: How to Write More Persuasive Emails that Get Opened, Get Read, and Get Click-Throughs
Learn to write emails that drive people to take action, and take advantage of the fastest way to make a living as a writer. Learn More »

Published: June 11, 2013