How to Get More Click-Throughs

All this week, we've been talking about the elements that go into creating a more persuasive email …
And although these are very important, they pale in comparison to what the REAL goal of every email should be: to get the reader to click through to a specific web page (could be a sales page, email opt-in, a video, or something else) by including a call-to-action and link. If that click doesn't happen, then everything we've worked for up to that point is for nothing.
All the great copy you came up with is worthless unless you get the click. Your copy is like a young Hollywood starlet — beautiful but without any real substance.
So how exactly do you get the click? Here's three simple ways to help …
Don't Put Your Links in Too Early: We're so anxious to get the prospect to the web page that we slap a link in front of their face after only a line or two. Problem is, they don't have any REASON to go there yet.
That's why your copy needs to "set up" the link. Provide a story, highlight the problem, then deliver the solution — which, of course, is inside the link. Everything should flow naturally to this link, funneling the prospect's attention to this one line and giving them every reason to click on it.
Don't Reveal Too Much in Your Copy: Sometimes we get so carried away with our brilliantly-crafted words that we tell our prospects everything we can about our offer. So they bypass the link entirely because there's nothing left that they NEED to know — you've told them everything already!
Intrigue is your friend here, so use it to its maximum potential. Hide pertinent details that your prospect would naturally want to know — especially price. Make them go INSIDE the link to get their questions answered, not just to the next paragraph.
Here's a quick example:
"It's like a short-cut to success … a 'Mini-MBA' if you will … that can transform your business results and put you at the top of your market — for good.

And it's already happening. The feedback from his clients has been phenomenal. Some have even mentioned that it's worth $100,000 (if not more).

But as a subscriber, that's not what you're going to pay — not by a LONG shot …

LINK"
As you can see, the price is teased, but not revealed. They MUST click the link to find this information.
Position Your Link as the Answer to a Question: Remember the principle I talked about in the article about subject lines? How we've been pre-conditioned to answer any questions posed to us? You can also use this same tactic to drive more click-throughs …
Instead of just giving them a link, pose a question before the link. When you do this, you're positioning the link as the "answer" to their question. And since we all feel the need to answer questions, a click-through is the next natural step. I've had great success with statements like:
"Isn't that exactly what you're looking for?"

"How does that sound?"

"Are you ready to get started?"

"That's what you REALLY want, right?"
And of course, that oldie-but-goodie, "What are you waiting for?"
This delivers INCREDIBLE results because it's so subtle, yet effective.
Add these three tweaks to your emails and watch your click-through-rates virtually explode almost instantly! Then share your success by leaving a comment here. And watch for tomorrow's email, where I'll show you how to eliminate the "eye stutters" in your email copy.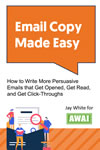 Email Copy Made Easy: How to Write More Persuasive Emails That Get Opened, Get Read, and Get Click-Throughs
Learn to write emails that drive people to take action, and take advantage of the fastest way to make a living as a writer. Learn More »

Published: June 12, 2013