Subject Line Secrets

Quick question — how emails have you opened today? And how many have you deleted without opening?
Truth is, most of those decisions were made solely on the subject line. And, from a marketer's standpoint, in a world where many inboxes are flooded with hundreds (if not THOUSANDS) of emails daily, the subject line becomes more and more of a crucial factor in your business.
This is Jay White, email copywriter, coach, and trainer. This week, I'll be revealing some of the fastest and easiest ways to help make your email copy more effective. We're starting today with subject lines.
So how do you make your subject lines more enticing to the reader? Here are three small tweaks that can help …
Ask a Question: We've all been taught from the earliest age to answer any question we're asked, right? (See, you just answered me in your head, whether you wanted to or not. GOTCHA!) It's one of the first things you learn — hear a question, answer the question. And you don't even have to do it audibly.
So why not use this same strategy in a subject line?
If you can mold and shape your email subject line into the form of a question, you'll be using this natural human instinct to your advantage. A question entertains the notion of there being more to the story, something that's not quite finished. And when you ask a question in a subject line, the automatic human response is to either A) answer or B) find an answer. Both of which mean opening the email.
See how simple this is? (Gotcha AGAIN!)
Intrigue is Your Friend: Intrigue taps into the basic human tendency towards curiosity, the essential need inside all of us to "know more."
I call it "the National Enquirer effect" because of the way that magazine pulls people into buying with just a few words plastered on the cover. Millions of copies every week are bought by people who have to know more. And you can use that same technique in your subject line copy.
Here's an example of an intriguing subject line for a golf product …
"Tiger Woods called this swing 'frightening' …"
Whose swing is it? Why is it frightening? And why would Tiger — the best golfer in the world — be affected by it in this way? These are all questions that cannot be answered — UNLESS you click open the email. The copywriter has presented a lot of intrigue here, perfectly targeted towards his golf-savvy audience with the mention of Tiger Woods. And this email had a HUGE open rate.
So when you're searching for a great subject line, don't always go with the obvious. Try to use intriguing subject lines that are vague and open, posing questions that cannot be answered unless you open the email. After all, inquiring minds want to know!
Use an Ellipsis: This is one of those "hidden secrets" that leading email copywriters use to make their subject lines stand out from all the others …
When you see an ellipsis (such as the three little dots that ended the sentence in the previous paragraph), it signifies that the author's thought is not finished yet, and there's a continuation of some sorts. Could be on the next line, the next page, the next chapter, or whatever. But one thing is for certain — there's MORE to be had.
And when you tap into the natural human tendency towards curiosity (just like I talked about above with intrigue) using an ellipsis, there's a good chance you can "pull" your reader to the next line. Or in this case, the actual email itself.
Try these tweaks out on your own emails and watch your open rates skyrocket! If you have any questions feel to post them in the comments section here. And look for another email from me tomorrow, where we'll talk about getting the "Lean In" to help engage your readers and keep them reading your copy.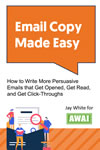 Email Copy Made Easy: How to Write More Persuasive Emails that Get Opened, Get Read, and Get Click-Throughs
Learn to write emails that drive people to take action, and take advantage of the fastest way to make a living as a writer. Learn More »

Published: June 10, 2013