Live: The Barefoot Writer July Issue

As communities across the U.S. clean up the remnants of their annual July 4th freedom celebrations, Barefoot Writers across the world continue to celebrate and build on the freedom they enjoy as writers.
It's a kind of joy that goes beyond not having to turn in a timesheet or cater to the whims of others. Once you officially launch your writing dream, you'll enjoy a lasting freedom like no other.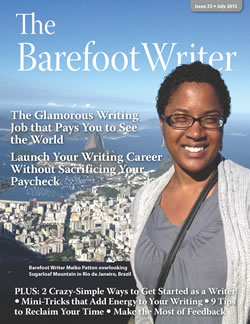 This issue helps you get there, thanks to seasoned advice from writers who've already sought (and earned) their own lifestyle freedom. You'll discover
How to back yourself out of full-time work into a drama-free writing career
Strategies to help you launch your freelance business in bite-size, doable pieces
The writing opportunity that knows no boundaries
Two Barefoot Writers who first pursued freelance writing for the freedom perks — but learned to love the writing along the way
And you're bound to get a kick out of travel writer Steenie Harvey, our featured interviewee. She epitomizes freedom, going wherever she pleases and writing about it. Her adventures won't disappoint, as she's done everything from attending a Maori hangi feast to rattling around Shanghai in a taxicab with a half-blind driver.
Check out this month's Barefoot Writer now!
Not a subscriber yet? Click here to learn more about becoming a member of The Barefoot Writer and start living the lifestyle you want by writing.

The Professional Writers' Alliance
At last, a professional organization that caters to the needs of direct-response industry writers. Find out how membership can change the course of your career. Learn More »

Published: July 5, 2013