Michael Masterson Comes Out of Retirement for an Exclusive Presentation Only to Be Seen at the 2013 Bootcamp
Copywriting legend and AWAI mentor Mark Ford (a.k.a. Michael Masterson) has agreed to come out of retirement to give you an insider's look at his new book about persuasive writing in a very special and exclusive presentation.
From Mark:
I'm looking forward to making this presentation at AWAI's Bootcamp with Will Newman. We've spent much of the last year talking about ideas I've had about persuasive writing – actually about persuasion itself. After a good deal of back and forth we've identified what I think are the essential components of writing compelling copy. A few of these AWAI members have heard in general terms. Some are brand new. But this is the first time they will be presented in a simple three-step formula.
It happens on Friday, Oct 25th – and ONLY AT BOOTCAMP.
More industry greats you can see and meet ONLY AT BOOTCAMP …
Clayton Makepeace, Bob Bly, Bill Bonner, Donna Baier Stein, Nick Usborne, Ryan Deiss, Drayton Bird, Will Newman, Mike Palmer, Jennifer Stevens, John Forde, Steve Slaunwhite, Pam Foster, Ilise Benun, and Darcy Juarez.
This is a "who's who" of direct-response superstars, and they will be sharing their most recent experiences about what they're doing right now with their current clients to build their businesses, increase their fees, and optimize their careers.
They all will be giving you their very best strategies for becoming an in-demand, on-your-own-terms, successful copywriter.
Save your spot today … the lowest payment plan deal ends on Wednesday, July 31st at midnight.
If you're ready to step up your writing career, you need to be at Bootcamp this October.
Go here for all the details and to reserve your spot.
Biggest Career-Boosting Event of the Year!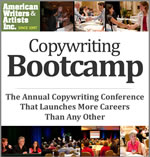 Get million-dollar industry secrets and cutting-edge techniques straight from the experts who created them …
Network with fellow writers of all levels and build a support team to keep you motivated and on track …
PLUS land new clients – or your first client – at our ultimate job fair for freelance writers …
Join us for our biggest writer's event of the year to get all this and more!
Published: July 26, 2013