Retired With Bonus Income and a Sense of Purpose

When I began the writer's life after I retired three years ago, I had reservations about asking my husband, Del, to spend money on training programs for writers. Money was not an easy subject in our household. Del wanted to save it. I wanted to spend it.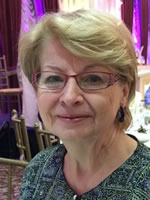 So, when I successfully showed Del that I could earn money writing for websites—and really good money, at that—I couldn't help but clap my hands in glee. Winning him over was my first Glicken!
Writing was not new to me, but I had given up trying to earn an income from it. Over the years, I had volunteered for church magazines, club newsletters, and business reports for a family business. This gradually led me to become a journalist for Christian publications.
I loved the writing. Regular newspaper columns and articles for national and international Christian magazines kept me busy. But I became discouraged with the poor pay. I changed careers to sell insurance and investments.
That's why I didn't even think of writing as a possible means of income during my retirement … until the day my insurance agent phoned me to write his website.
Research reveals the unexpected
I told him I'd look into it, though I wasn't that excited about the idea. But the more research I did on writing for the Internet, the faster my heart beat.
The answers I got from a simple Google search on 'How to write for websites?' and 'How much should I charge to write a website page?' surprised me:
Writing for websites and other Internet content is different from journalism
A good online writer is not a pushy salesperson, but someone who connects others with a solution to a problem
I could charge … a lot!
I realized something about writing for the Internet that I never saw when I was writing for print publications: People visiting websites were asking for help! If I knew what their problem was, I could use my writing skills to help them solve it.
Best of all, the website owners would pay big bucks to have me help their prospects by writing clear, targeted content.
Armed with this information, I prepared a report to show my husband, Del. It included bulleted lists with facts like this:
Writing a simple five-to-six page website could earn me about $3,500
A landing page could bring in thousands of dollars depending upon the type
A single pay-per-click (PPC) Ad could bring in $200 or more
Furthermore, I could charge per project. This was big. As a journalist, I was paid per word. And it never added up to very much.
The Glicken keeps on coming
Del immediately saw the opportunity and encouraged me to pursue my dream of the writer's life. He is also happy that I'm doing something I love.
Better still, I discovered Christian writers are in demand. Many non-profit organizations are looking for fundraising writers and are willing to pay a high fee for the right person. And Christian business owners are thrilled to find like-minded writers who understand their business and their principles.
There have been several Glickens since then … like customers who rave about my services. I also enjoy the sense of purpose I have each morning, even though I'm 'retired.'
One of my favorites, though, is the time I travelled from Toronto, Ontario Canada, to attend my first Web Intensive in San Diego. I added a few extra days to invite my sister, Susie, from Las Vegas to join me and walk on the beach.
Later, the same year, I attended my first Bootcamp in Florida — all paid for with my Web writing!

Secrets of Writing for the Christian Market
Your faith and your work can go hand-in-hand. Learn how to succeed in the growing Christian market. You can build your career writing copy that brings hope to others. Learn More »

Published: July 4, 2013