Why Bait Pieces Are So Important for B2B Copywriters

I don't usually think of writers as professional anglers, but Bob Bly opened my eyes on that when he dedicated his whole presentation to bait!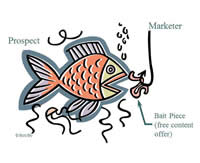 Bait in this case refers to the free content pieces your clients offer prospective customers.
Bait pieces are used as a way for your client to generate new leads, add names to their mailing list, and win over prospective clients.
And the popularity of bait pieces is on the rise, according to studies Bob shared with us.
But if you've ever heard Bob speak, you know this man can't just tell you something works.
He has to show you how it works and how you can use it in your own writing business — all backed with tons of examples, industry studies, and hands-on tips.
Bob told us all the different ways B2B customers are using bait pieces right now to pull in leads from every available marketing channel. They're offering bait pieces in their e-newsletters and on their websites. They're pushing them to prospects through social media, PPC, and video. It never stops.
And there's a good reason. Bob pointed out that 89% of potential customers report that content (aka bait) influences how favorably they perceive the company and the product.
Which is why he walked us through how to write good bait and how to offer it to potential consumers so they just can't resist it.
We talked about how to title bait pieces … how to present them to customers in both offline mailers and online opt-in forms … and even the five-part formula to use to make sure your bait pieces close deals for your clients.
All in all, Bob made bait look pretty appetizing. It taps into a key client need to build better connections with customers. And you can use all the other forms of B2B writing like case studies, newsletter subscriptions, and white papers as a way to meet the need for bait.
Plus, since you can use bait pieces so many different ways, clients need lots and lots of them for each and every thing they sell. Which means lots and lots of writing work for you.
And I don't have to tell you what lots of work means financially in the B2B world!
But in all seriousness, I hadn't realized just how prevalent bait was these days until Bob opened my eyes. Yet if you pay attention, you'll see that bait is turning up everywhere.
Look at your own inbox or think of the last website you visited. What was their bait, and did you take it? Let me know in the comments — and chances are, we'll both be surprised at just how much is out there!

The Professional Writers' Alliance
At last, a professional organization that caters to the needs of direct-response industry writers. Find out how membership can change the course of your career. Learn More »

Published: July 24, 2013