Breaking News …
AWAI Receives 2013 APEX Award
The APEX Awards are given annually by industry publication Communication Concepts Inc., recognizing excellence in creative editorial ideas and concepts in the industries of online and offline publishing, corporate communications, graphic design, public relations, and more.
And the winners of the 25th Annual APEX Awards for Publication Excellence were just announced and AWAI was recognized in the website category for the high-quality content and writing on www.awai.com.
American Writers & Artist Inc.'s website is a constantly updated go-to clearinghouse full of articles, blog posts, and special reports that give tips and step-by-step guides for those interested in starting new careers as copywriters, web content writers, travel writers, grant writers, graphic designers, and self-publishers, among others. The site also offers career advice to help newcomers to these industries market their services and find clients.
"We're thrilled to receive an APEX Award this year," says American Writers & Artists Inc. Executive Director Katie Yeakle. "I truly have to give credit to the many contributors who make our website such an industry-recognized resource."
Biggest Career-Boosting Event of the Year!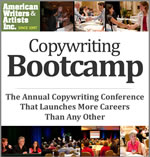 Get million-dollar industry secrets and cutting-edge techniques straight from the experts who created them …
Network with fellow writers of all levels and build a support team to keep you motivated and on track …
PLUS land new clients – or your first client – at our ultimate job fair for freelance writers …
Join us for our biggest writer's event of the year to get all this and more!
Published: August 13, 2013