Niche Copywriting Jobs You Might Like

Quick question: Are you on LinkedIn yet?
The reason I ask is … LinkedIn.com is where business professionals (prospects for your writing services) are hanging out, talking about their industry, connecting with colleagues, and referring them to excellent resources such as SKILLED COPYWRITERS like you.
Yes, this powerful social network is where you can be talking directly with clients, potential clients, and great referral sources.
But LinkedIn is also a terrific research site for you as you look for your ideal niche because it's a gold mine for identifying hot markets looking for writers at this very moment.
Let's take a look …
When you fill out or enhance your LinkedIn account, you'll want to list your copywriting skills, talents, work history, writing specialties, and more. Once you discover the right niche for you, and you're ready to go after it — you can always change your profile to feature your niche-market focus.
But for now, complete your profile with all the phrases that relate to your writing skills: copywriter, web content writer, blogger, social media, emails, articles, marketing, etc. Whatever best fits you.
The reason is — LinkedIn will match your skills with "Jobs you may be interested in," as you'll see in this screenshot. If you sign up for email notifications … once a week, they'll send you the list of suggestions. You'll be able to see if there are a lot of opportunities for work in this niche right away — automatically.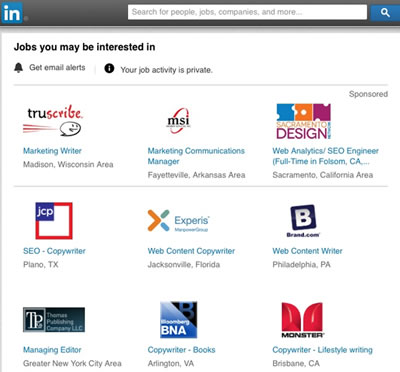 In addition, LinkedIn has a JOBS section where you can search for jobs by all types of keywords: copywriter, editor, social media, web SEO, content, blog, etc.
I just entered the word "blog" and found a very cool opportunity for someone who'd like to blog for Savannah College of Art and Design!
Also I've seen jobs in the pet and veterinary world. It reinforces that I'm in a lively market.
Don't worry if you haven't spent a lot of time on LinkedIn. Just make sure your account profile is filled with information about your copywriting background. Then explore the JOBS page using various keywords so you can see what's available.
This just may be the missing puzzle piece that helps you identify your niche.
Here's why …
You may find really interesting and fun jobs in an industry you may enjoy. If you have a background and interest in Information Technology, you may be excited to see a dozen different opportunities with cloud companies, software companies, mobile app companies … who knows?
If you're an engineer, you may discover writing jobs for engineering companies.
What if you're interested in the green/eco-friendly market? Same deal.
See how this can work for you?
By the way, if you'd like to go to the next level in finding your perfect niche industry — and marketing yourself successfully within that niche — I created a complete how-to guide with AWAI, just for you.
It's called How To Choose Your Writing Niche: A step-by-step blueprint for choosing a profitable niche that's right for you.
Tomorrow, we'll shift gears so you go beyond job sites to pin down a strong niche industry for you.
Until then, if you have any thoughts or questions about using LinkedIn as a niche-discovery source, please post a comment here.

How to Choose Your Writing Niche: Your Step-by-Step Blueprint for Finding a Niche that's Right for You
Need to pick a niche for your freelance business? Learn how to do it once and for all, and watch your business grow. Learn More »

Published: August 7, 2013