Ready, Set, Jump. Literally.

Everyone knows the many benefits of travel writing: 5-star luxurious resorts, 7-course gourmet meals, 2-hour spa treatments, all for free or deeply discounted. But for me, it's the Glicken — the over-the-top experiences that tickle the fancy of this adrenaline junkie and keep me in this business.
The ultimate Glicken for my sort of intrepid traveler is skydiving. So while in Hawaii in June on a photojournalist gig covering a 50th Aikido celebration, I made the arrangements. If I was going to jump out of a perfectly good airplane, you can bet it was going to be in a place where the view was spectacular!
Our group of seven arrived at Dillingham Airfield on the north shore of Oahu, Hawaii at 9:30 a.m. During the one-hour ride, I had persuaded all but one to do a jump.
Guy, the charming French owner of Pacific Skydiving was thrilled — not just at the prospect of a favorable story about his business, but with five additional paying patrons to boot. He regaled me with all kinds of discounts: 50% off for le group, wait, another 5% because there were so many of us, oh and mais oui, 50% for the travel writer! At this point, I think he actually owed me money. I didn't push it. I know when I'm ahead.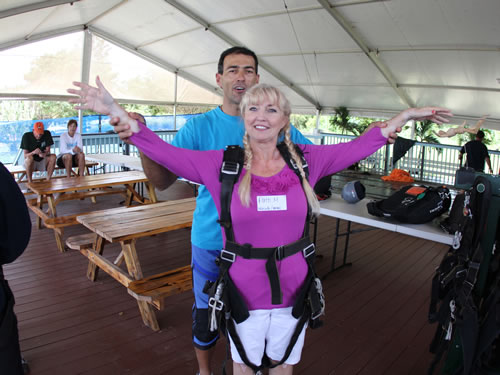 I was introduced to my jumpmaster, Marcello, and Breen, my personal videographer, and we began the pre-jump safety instructions, all recorded with my introductory travel writer spiel. Then the three of us and the rest of the group went off, all harnessed and ready for the biggest leap of faith we'll probably ever take.
We ascended to 14,000 feet — the highest height from which you can jump without oxygen — in relative silence. I was in tandem so close to Marcello, I couldn't even breathe, let alone speak. I gave a lot of "thumbs up" and a few of the Hawaiian "hang loose" gestures.
I think a lot of would-be skydivers really want to hear something beyond the ubiquitous, "just do it." They want to know how it feels, from beginning to end, in descriptive terms. That was my goal.
I was the second "guest" jumper to leave the plane. We lingered in the open doorway for two seconds, which was one second too long for me. Then we jumped.
We tumbled head over heels for a brief moment. Then Marcello gained total control and there we were, floating in beautiful form for the one-minute freefall part of the jump. The wind in my face approaching 200 miles an hour was pretty extreme, so while the glasses protected my eyes so I wouldn't miss the panoramic 360˚ view, it's pretty hard to breathe if you have your wide mouth open in a perpetual smile, as did I. It was pure, unadulterated adrenaline. I remember thinking maybe travel writing is only the second best job in the world!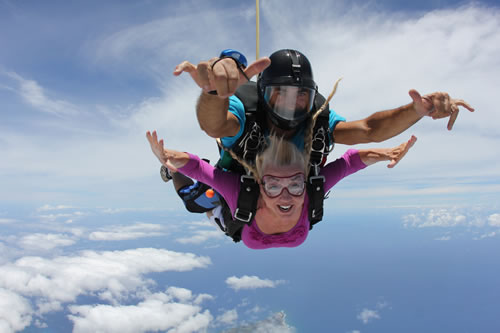 Breen skillfully managed to maneuver near us to interact and video the whole thing, including reaching out to hold my hand! When he suddenly signaled goodbye, it was a clue something was about to happen. Marcello pulled our chute and it felt like we were jerked back up. The descent was slowed substantially, albeit a bit painfully due to the tightening of straps. This was soon corrected by Marcello who removed my goggles and loosened the straps a bit so I could enjoy a view that is hard to describe without using overly trite expressions like amazing. Incredible. Astounding.
Because Marcello knew I'm a travel writer, he treated me to a little extra "Glicken." He swirled our parachute around, over, sideways, up, down, and every which way. I lost track of the horizon. I almost lost my breakfast. Luckily I remembered my Lamaze breathing and pulled myself out of it. "This is the most fun I've ever had!" I said to Marcello, who had been laughing and talking effortlessly to me since pulling the chute.
As land approached, I pulled my legs and feet up and let Marcello do all the landing work. And what do you know — there was Breen who had landed before us and had his camera ready to record my first reactions!
What a rush, and my best Glicken to date!
Especially because the owner, Guy, personally came out to meet me as I landed, and escorted me back to the airport lounge.
Other Glicken I've enjoyed includes snorkeling in La Paz, Mexico with wild, curious baby sea lions that playfully bump you and blow bubbles in your face … exploring the steep red rock buttes of Sedona, Arizona with a crazed Pink Jeep driver … and participating on an underwater shark-feeding expedition in Bora Bora. These are Glicken encounters of the best kind, and I look forward to more.
Right now, I'm working on a hang gliding opportunity 2,000 feet in the air. I guess I've got flying in my veins now.
Editor's Note: To see a short video of Patti's skydiving Glicken, go here: //www.youtube.com/watch?v=tw0OwPxAr9E&feature=youtu.be

The Professional Writers' Alliance
At last, a professional organization that caters to the needs of direct-response industry writers. Find out how membership can change the course of your career. Learn More »

Published: August 20, 2013