7 Ways To Be a Champion by Going
the Extra Mile

"Do more than is required. What is the distance between someone who achieves their goals consistently and those who spend their lives and careers merely following? The extra mile."
— Gary Ryan Blair
Going the "extra mile" is given a lot of lip service. Gary Ryan Blair, Napoleon Hill, Wayne Dyer, and even Roger Staubach have talked about it.
This summer, I got a personal lesson in the difference that going the extra mile — literally — can make. Let me tell you about it …
630 "Extra Miles" for Youth Baseball
My 11-year-old son plays baseball. He has since he was five. He's earned a spot on all-star teams and travel teams, and he's played in dozens of tournaments (probably close to 100 by now). But he's never played in such an emotionally-charged tournament as this summer's Cal Ripken Pacific Southwest Regional.
Teams have to win their respective state tournaments to earn a spot at the regional, which in this case includes teams from California, Hawaii, Arizona, Utah, Nevada, and Guam. For 11-year-olds, "Regional Champion" is the ultimate title (10 and 12-year-olds go on to World Series tournaments, but not 11-year-olds).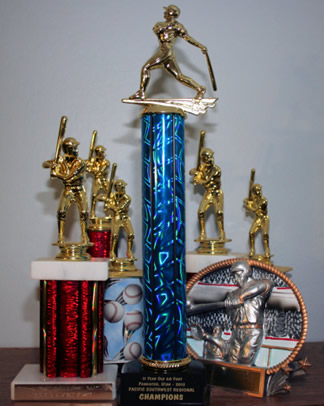 Our team battled through our state tournament to play in the Central California State Championship game, only to lose that game and place second. Yeah … bummer.
Then we got word that some of the state champions had declined their spots at the regional tournament. It was being held in Panguitch, Utah, and some couldn't make the trip.
A spot was ours if we chose to accept it. Could we find a way to take 12 players 630 miles away from home for this opportunity of a lifetime? And with just 10 days' notice?
We decided we could, and we did.
The boys played their hearts out in Panguitch, and ended up in the regional championship game … against the very team they had played — and lost to — in our own state championship back home.
The game was tied, 11-11, going into our team's at-bats in the bottom of the last inning. Two guys got on base, one out, then one of our players hit a double out to right-center field, which scored the winning run …
Regional Champions. Only one other team in the 19-year history of our league had ever earned that title. We weren't expected to win. We were the underdogs. We had nearly decided the trip was too much work and almost stayed home …
But we didn't. We went the extra mile and came home Champions.
As web writers, we can do this, too. We can go the extra mile and become Champions in our clients' eyes.
And we can earn much more than bragging rights and a trophy.
Here's how …
7 "Extra Miles" for Web Writers
Email projects — When you do an email project for a client, submit two subject lines instead of just one. Suggest that your client test the two to see which one has better results.
Landing page projects — Give your client a second headline to test, or a second P.S. if your landing page is in the form of a letter.
"About" page projects — When you write an "About" page for a client, provide extra copy for the client to use in their social media profiles.
Social media assignments — Write a few additional posts or alternate ads for the client to use.
Pay-Per-Click jobs — Submit a few extra versions of the PPC Ads for the client to test.
Articles — Provide an image, screenshot, or other graphic element (when appropriate) that helps illustrate the article. (Don't break any copyright infringement laws to do this, though!) Or submit a brief related sidebar for the client to use.
E-book projects — Write a related "Bonus Chapter" or a summary of the book for your client.
These "extras" don't have to take a lot of extra time and effort on your part. For example, how many times do we as writers have several rough drafts of subject lines or headlines? We choose the one we think is the strongest, but maybe there was another one that was a close second.
So submit both and let the client test them.
Maybe you cut large chunks of text from an article or e-book you're writing because you were straying too far off topic. Don't just leave those cuts on the editing room floor. Work them into a sidebar or a "Bonus Chapter."
Sometimes, the "extra" that you give your client may not even seem like much to you. But it does to them, and it increases your perceived value.
What's In It For You?
Not many people go the extra mile for others anymore, so when you do, you'll set yourself apart from (dare I say "above"?) your competition.
The extra effort builds goodwill — and in the competitive world of business, goodwill can mean a lot, including the difference between additional work or none.
The extra effort also changes your client's perception of you. By making it easy to test your copy, you've elevated yourself to being regarded as a marketing consultant and strategist in addition to a valuable part of the team as a writer.
And that extra subject line, headline, ad, etc. may actually be brilliant, yielding Champion-level results for your client, who will then be very pleased and want to hire you for many more projects well into the future.
One more thing … remember to ask for testimonials, especially when you've gone the extra mile for a client. A happy client's testimonial is priceless for the proof it gives you to offer prospects who are considering hiring you.
Gain a Champion Mindset
You'll raise the bar by going the extra mile. You'll change not only your clients' perceptions of you, but also your own …
With every game our baseball team won at the regional tournament, their self-confidence grew. When they came home as undefeated Regional Champions, they had proof (a trophy) that they have what it takes to be winners … and now they think of themselves and carry themselves as Champions.
So how will you go the extra mile to become a Champion
This article, 7 Ways To Be a Champion by Going the Extra Mile, was originally published by Wealthy Web Writer.

The Professional Writers' Alliance
At last, a professional organization that caters to the needs of direct-response industry writers. Find out how membership can change the course of your career. Learn More »

Published: September 25, 2013