Breaking News: AWAI Releases Updated Health Market Program
AWAI's popular Secrets of Writing for the Health Market program update will go live on October 2nd. The revised program includes the latest techniques and strategies for succeeding as a health writer along with fresh writing exercises, copy examples, and bonus materials.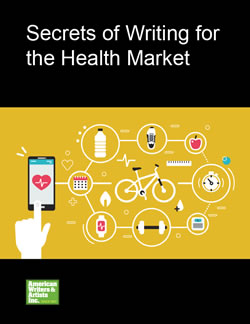 The program update is a response to publisher feedback that there aren't enough qualified health writers to keep up with the industry's need for copy.
"The trouble we run into – always – is simply a lack of qualified heath writers," says Angela Salerno of The Institute for Natural Healing. "Having strong copy is key to building a profitable business. We can't succeed without it."
Over the last year, health publishers have been on a hiring spree, often using unusual tactics to raise their profile and attract good writers. For example, in July of 2012, Jenny Thompson of NewMarket Health hosted a special copy competition for AWAI-trained writers with a prize package that included a $25,000 project fee and a one-year contract with her company.
Yet even hiring aggressively, many health publishers still don't have enough writers. This creates an attractive situation for writers entering the health niche, as they can expect a fast path to six figures when their copy does well. Rae Robinson recently took her monthly income from around $2,000 to over $9,000 by focusing on health copy, while top health writers routinely charge $10,000 to $25,000 for a single sales package.
AWAI's updated Secrets of Writing for the Health Market program speaks directly to this intense demand, offering writers a quick and easy way to get the skills needed by health publishers. Plus, the program now includes not just one, but five live spec challenges from health publishers looking to hire AWAI trained health writers as soon as they can.
To celebrate the update of the program – and make it easy for interested writers to break into the health market this year – AWAI is offering a $150 discount on Secrets of Writing for the Health Marketing until Friday, October 4th.
Grab your copy now or learn more here.
And remember, since this is one of AWAI's "Living Programs," members who already own Secrets of Writing for the Health Market will automatically get access to all the refreshed and updated content on their myAWAI page. Check it out now!

The Professional Writers' Alliance
At last, a professional organization that caters to the needs of direct-response industry writers. Find out how membership can change the course of your career. Learn More »

Published: September 30, 2013