Nick Usborne: Earn More Money as a Freelancer While Working Smarter – Not Harder with His Proven Marketing Techniques – Confirmed to Speak at AWAI's 2013 Bootcamp!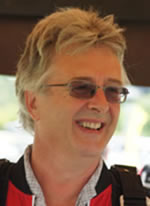 Nick Usborne is a master online copywriter and site optimization expert with 30 years of experience in the marketing industry and will be speaking at the 2013 FastTrack to Copywriting Success Bootcamp and Job Fair, October 23 – 26, in Delray Beach, Florida.
If you're at all interested in earning more money as a freelancer while working smarter — not harder — you'll want to pay VERY special attention to Nick!
When he first started his online copywriting career, he had no clients and no contacts.
But using his own highly-effective and proven marketing techniques, he went from a complete standstill to writing online copy for and consulting with some of the world's best-known companies, including Apple, Chrysler, Disney, Citibank, and The New York Times.
He's proven time and time again these techniques work to build ANY freelancer's business, by personally coaching dozens of copywriters and freelancers to great success.
In addition to being a sought-after coach and speaker, Nick is also a widely-read columnist, with his articles being published by ClickZ, iMediaConnection, AListApart, Business 2.0, MarketingProfs, and many other professional sites and publications.
In his spare time, Nick publishes Excess Voice, Freelance Writing Success, and their accompanying newsletters, which are read by over 16,000 online writers and copywriters each month.
During Nick Usborne's 2013 Bootcamp Presentation, How to Love & Succeed at Marketing Your Business he'll share:
How Nick picked up his first three clients — starting from a complete standstill
Discover what your message is, and what you've got to do to be passionate about it
Why centering your marketing around a core message benefits you and makes you stand out
How to make marketing your freelance business a lot more effective and a LOT less painful …
And much, MUCH MORE!
Nick recently sat down for an exclusive interview to share a few insights on "loving your message" and why it's key to successfully marketing yourself and attracting clients. You can access the interview and learn more about Bootcamp here.

The Professional Writers' Alliance
At last, a professional organization that caters to the needs of direct-response industry writers. Find out how membership can change the course of your career. Learn More »

Published: September 2, 2013