7 Ways to Use Google Plus to
Build Your Audience

I was an early adopter of Google Plus — I signed up for it and created my profile as soon as I had an invitation. (Yes, back then you needed permission to open a Google Plus account.)
Since then, I admit, I've not used it consistently. I'm working on changing that now, though.
Why? Because I'm convinced that G+, as it's affectionately known, is the best way to grow your traffic and audience for your website or blog.
"But everyone's already on Facebook, why do I need to add yet another social platform? I'm already too busy!" I hear you moan.
I feel your pain. I'm in the same boat, after all.
But here's what I've learned — If you want to rank well in organic search, you need to be on Google Plus. It's that basic and that simple.
MOZ is a well-known SEO consulting firm. They've been around since 2004 (they used call themselves SEOMoz).
Recently they did a study and found that:
"After Page Authority, a URL's number of Google +1s is more highly correlated with search rankings than any other factor. In fact, the correlation of Google +1s beat out other well-known metrics including linking root domains, Facebook shares, and even keyword usage."
Page Authority is MOZ's metric that calculates how well a given web page is likely to rank in Google search.
Brian Clark of Copyblogger recently told Wealthy Web Writer that Google Plus is "like a direct link to Google's algorithmic brain."
What about users? Isn't everyone on Facebook? A few months ago, Business Insider published an article stating that, with 359 million active users, G+ has outstripped Twitter as the #2 social network. Searchmetrics estimates that, at its current growth rate, G+ will pass Facebook by May, 2016.
Unlike Facebook, G+ is a topical network instead of a relationship network. Relationships on G+ are based on shared interests. It's much easier for people interested in your niche to find you on Google Plus.
Creating your G+ account is simple. If you have Gmail, you already have a default G+ account. If not, decide what email address you'll use for G+. You can use any email address — it doesn't need to be from Gmail.
Before you activate a G+ account, think about what email address you want to use, personal or business. Note that you can create business pages — up to 50 of them — in your G+ account. I created my basic Google Plus account using my personal email, then added two business pages.
If you know that you'll be using G+ mostly for business, and if you have a single business email that you expect to keep for a long time, you can set up your G+ account with that email.
Here are seven steps to leverage the power of Google Plus to grow your audience.
#1. Flesh Out Your Profile
It's the same advice you've seen over and over again for any social media platform. Make sure your profile is robust and complete.
Nobody's going to add you to their circles if you haven't bothered to upload your photo and at least a few bits of information about yourself, so use the profile to put your best foot forward.
This is true for your personal profile, and also for the profile on any G+ Page you create.
#2. Build Your Circles
On Facebook you have friends, on Twitter you have followers, and on G+ you have circles.
Google offers you some pre-made categories (Friends, Family), but you can create new circles and label them in ways that are meaningful to you.
Some of my circles include Writers, WordPress, and Expats. I'm also a big fan of Disney and the Orlando-area theme parks, so I have a circle for them as well.
When you find someone you want to connect with, you add them to a circle. You can put them into multiple circles as well, so I have some people in both the Writers and WordPress circles, for example, or in Expats and Travel.
You can interact directly with individuals (just put a plus sign in front of their names), or with circles.
You can also post to specific circles. If you have widely varied interests, you don't want to turn off prospective clients with political rants or comic videos. Instead, send those to your Politics circle or your 2Cute circle. You can also post to Public, to all your circles, and to Extended Circles.
As you circle people or businesses, some will add you to their circles. Like followers on Twitter, circling needn't be reciprocal.
Circles give your SEO a boost — when you're in someone's circle, your pages rank better when that person searches on keywords relevant to your niche.
You can also join (or start) G+ Communities. Want to learn more about how to use G+ for business? Join the Plus Your Business community.
Whatever your niche, there's probably already a community for it. Love Harry Potter? Want to share travel photographs? Sharing the road with bicycles? Copywriting or content marketing? Politics or religion in thousands of flavors? They're all there.
#3. Post and Comment
There's an art to publishing posts that get noticed on Google Plus. According to Demian Farnworth of Copyblogger, this is one place where you shouldn't start with the headline.
Instead, he explains why the image is your starting point. According to this article, focus on these areas — and in this order — to write your successful G+ post:
Image — the bigger the better
Headline — focus on the 4 U's©
First Sentence — make sure it's a "gripping teaser" and short enough to fit on only three lines
Body copy
Use hashtags, but sparingly
Choose carefully who to share it with
You'll also increase engagement when you create long posts inside G+. (Just don't do that instead of posting to your own site or blog.)
#4. Link to Your Website or Blog
Yes, you can link to your posts, articles, and website updates on Google Plus.
The most important link happens before you post a single bit of G+ content, though.
To take advantage of Author Rank, link your Google Plus profile to your own website, blog, and all sites where you're a regular contributor.
When you link your profile to your website, you'll notice some changes in Google search results. Now, when one of your pages shows up in search, you'll see your picture next to it. Even if your listing is partway down the search page, you'll get a lot more click-throughs than a higher-ranked listing without the image.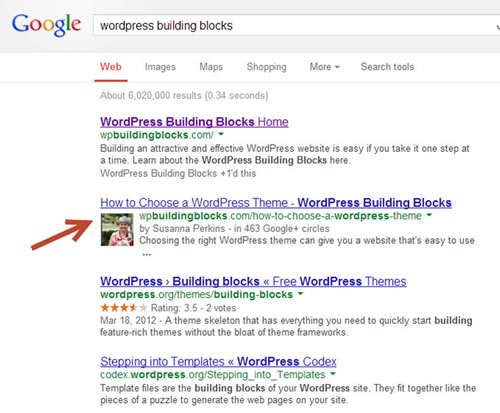 #5. Link to Your Posts and Articles
When you publish something new on your site, link to it from G+.
As with any other social medium, though, remember to emphasize the social. If you're just using G+ to broadcast what you're publishing, it won't work all that well for you.
Sharing, engagement, and conversation are just as important here as they are with any other social medium.
Some bloggers have gone so far as to move all their blogging activity to G+. While it's tempting to use a platform that you don't have to maintain, it's not a good long-term strategy. Instead, leverage G+ to work with your blog or website.
Here's a strategy to improve your blog content while increasing engagement. Use the G+ community to help you fine-tune your posts — upload the draft to G+, then refine it based on comments or questions. Once you've written the post and uploaded it to your blog, cross-link to the G+ version, and also edit the G+ post with a link to the final version on your site.
#6. Use Hangouts
Google Hangouts are an incredible tool. Use them to:
Video chat with screen share — perfect for consultants
Video chat with small groups — perfect for meetings or brainstorming sessions of 10 attendees or fewer
Hold a webinar — G+ is a free webinar substitute with automatic video recording and playback, and access to an unlimited audience
Webinars are an effective marketing tool. They're also expensive to run.
Now you can use Google Hangouts on Air instead. Unlike a regular Hangout, there's no limit on the number of people who can watch.
Hangouts on Air work by automatically recording and broadcasting the video feed. Once the Hangout is over, the recording is automatically uploaded to your YouTube channel within minutes so anyone who wants to can watch the replay.
As a participant, there's no complicated sign-up. As the presenter, there's no special software or equipment needed. A video cam, a headset with a microphone, and some decent lighting, and you're in business.
Best of all, running a Hangout on Air doesn't cost you a dime.
#7. Share Publicly and Watch it Spread
Ripples is a G+ tool that's maintained a low profile. When you post to the public, or share a public post, you can see who's sharing it going forward.
Just click on the little down arrow symbol in the upper right-hand corner of the post and Google will open a Ripples window. It shows exactly where and how that post has traveled since you posted or shared it. (It only monitors public posts, though, so if someone shares it to a circle or community, Ripples won't show it.)
Bonus Tip: Go Local
With some recent Google algorithm changes, if your business is local, you can leverage Google Plus even more.
Businesses with active Google Plus pages rank higher in search and show up in more places. Heather Lloyd-Martin detailed this for us in a recent teleconference.
G+ is changing the landscape of search and social. Make sure you're using it to your best advantage.
This article, 7 Ways to Use Google Plus to Build Your Audience, was originally published by Wealthy Web Writer.

The Professional Writers' Alliance
At last, a professional organization that caters to the needs of direct-response industry writers. Find out how membership can change the course of your career. Learn More »

Published: October 23, 2013