Special Announcement …


Congratulations to Donna Baier Stein –
AWAI's 2013 Copywriter of the Year

Each year, AWAI honors one copywriter who has succeeded in their niche and made notable contributions to the continuing education and training of copywriters and marketers. And Donna Baier Stein has gone above and beyond in both categories.

That's why this year, AWAI is proud to name Donna Baier Stein as the 2013 Copywriter of the Year.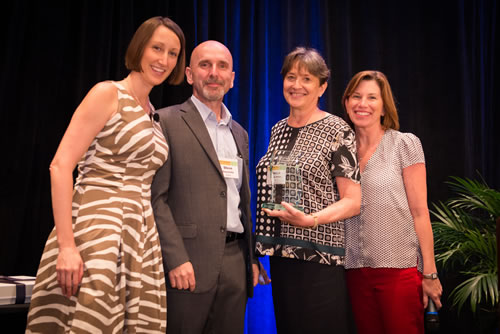 Rebecca Matter, Steve Slaunwhite, Donna Baier Stein and Katie Yeakle
In her more than 35 years as a professional copywriter, she has created campaigns for The Nature Conservancy, Citrix, the World Wildlife Fund, Omaha Steaks, Oxford University Press, and the National Audubon Society. She has multiple controls which have run for over 20 years, and her copy has won ECHO, AMBIT, and MAXI awards.
As a teacher, Baier Stein developed the first copywriting seminar offered by the Direct Marketing Association (DMA). She has taught online and offline copywriting seminars for more than 20 years, authoring two award-winning books on copywriting, Write on Target and The New Marketing Conversation. She is also a noted poet and fiction writer, with her latest book, the short story collection Sympathetic People, earning a finalist spot in the Iowa Fiction Awards.
Donna credits her success to a deep love of the written word and seizing opportunities that came her way even before she felt ready. Though naturally introverted, she proved her abilities through her work, once earning a client a 3,500% lift in membership with a single successful acquisition mailing.
In presenting the award, b2b copywriting expert Steve Slaunwhite highlighted Donna's ability to deliver outstanding results while remaining an approachable inspiration to the next generation of writers.
Katie Yeakle, Executive Director of AWAI, added, "Few writers have given as much to this industry as Donna Baier Stein. She's an incredible teacher and inspiration to all of us. I've admired her for years and am pleased to honor her work with our 2013 Copywriter of the Year Award."
Past winners of the AWAI Copywriter of the Year award include Richard Armstrong, Dan Kennedy, Ted Nicholas, Bob Bly, Clayton Makepeace, Donna Doyle, John Forde and Michael Palmer.

The Professional Writers' Alliance
At last, a professional organization that caters to the needs of direct-response industry writers. Find out how membership can change the course of your career. Learn More »

Published: October 30, 2013