Overcoming the Odds to
Enjoy Copywriting Success
At just 21 years old, AWAI member David Gordian has come a long way in his freelance copywriting career. He grew up without much money and in tough surroundings in Los Angeles. But at 17, he discovered the world of online marketing and started providing SEO services. The technical SEO stuff was boring.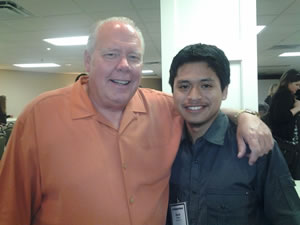 But, David found that he really liked writing the sales copy to sell his services to new clients.
"Maybe it was because it didn't matter how old, how smart, how creative, or how many MBAs I had. I just needed to convert. The fact that I did convert pushed me into it more and more," says David.
Yet it wasn't until he discovered the copywriting legends like Gene Schwartz, John Caples, and Claude Hopkins that he truly entered the copy world. He devoured their classic books and read articles from present-day heroes Gary Halbert, John Carlton, and Clayton Makepeace. And it was Clayton, a frequent speaker at Bootcamp, who really kick-started David's career, thanks to his Desktop Copy Coach course and the event he hosted last April with AWAI: The Makepeace Method for Making a Fortune Writing Video Sales Letters.
As David wrote Clayton recently:
"To make a long story short … you helped me get going. Everything connected. I knew the rules, the fundamentals. But something about your course made things 'click' …

"Almost every chapter got me more and more excited and I just couldn't wait to get started all over again. And as a result, I landed $250 to $750 projects for the following year. And I doubled almost every year. Today, I'm doing a little over $3K a month.

"So God Bless You, Clayton. You've helped me change my life around."
So far, David has written mostly in the health and financial niches, including formats like Video Sales Letters, long-form sales copy, squeeze pages, and emails.
"If we measure success by money … I think I'm still chasing it," notes David. "But I think it's important to never 'know' when you are successful. As long as this game doesn't get boring, then success can be the minute you convert or hit a home run. And there's no bigger rush than that."
Best of luck on everything, David. You certainly have earned your success so far. And please let us know when you pass your next milestone.

The Professional Writers' Alliance
At last, a professional organization that caters to the needs of direct-response industry writers. Find out how membership can change the course of your career. Learn More »

Published: October 14, 2013