This Was My Copywriting Career Breakthrough …

In late 2009, 3 months and 3 days before launching my freelance copywriting career, I was standing in a hotel conference room in Delray Beach, Florida.
I was at AWAI's annual Bootcamp … And I was talking to Clayton Makepeace. He didn't know me from Adam. But he was more than happy to spend a few minutes pointing an aspiring AWAI copywriter in the right direction.
And that's when Clayton shoved a list into my hand …
Now I don't remember all the details of what we talked about that day. But that list Clayton gave me turned me from wannabe to cash-getting direct response copywriter.
Practically overnight.
My copy used to wander in the woods, lost.
With this list Clayton gave me, my copy was sharp, to the point, and made sales. LOTS of them. And justified fees that have now gone up more than 5X – plus single royalty checks for more than I used to make in a year.
AND the list put turbo-boosters on my writing. I used to spend weeks laboring over sales letters – and they never "sung." Now I could write the same amount of sales copy in days – at perfect pitch …
From a dang list – one piece of paper. (I still have it pinned on my wall next to my desk.)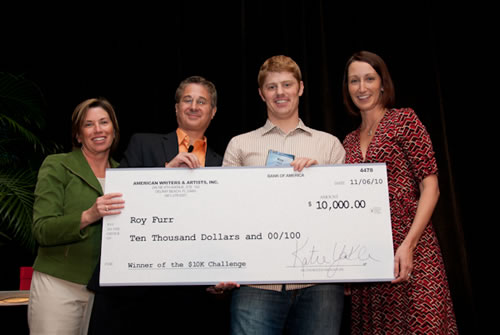 What was on the list? What gave me my copywriting career breakthrough?
It was an outline Clayton has used hundreds of times to write blistering-hot sales copy …
Now Clayton wants to teach YOU this same stuff …
It's the secret to both SPEED and MORE SALES from your copywriting …
It could be a complete breakthrough in your copywriting business …
And Clayton has teamed up with AWAI to bring it to you – FREE – in your home or office.
But you should have registered, like, yesterday – because time is running out …
Why are you still reading this?
Don't wait another second … Register right here …
Roy Furr
2010 AWAI $10k Challenge Winner
See that in my signature? Just one year after I got this list from Clayton, I was AWAI's $10k Challenge Winner. Coincidence? Well, register now and decide for yourself.

The Makepeace Method for Making a Fortune Writing Video Sales Letters
Video is taking the Internet by storm. It's why Video Sales Letters are used so often. They work! And now, Clayton Makepeace reveals his make-your-clients-rich formula for writing Video Sales Letters. Learn More »

Published: October 8, 2013