10 Ways to Boost Your Creativity and Crank Out Killer Copy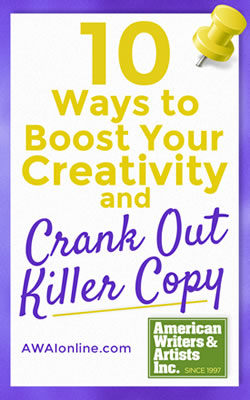 As a full-time writer, the job is easier if your creativity is "on" every day. Plus, you'll make more money … because the more creative you are, the more you can write. And, the more you write, the better you'll become.
However, I understand having days where you just don't possess the creative energy you need. Maybe a project is taking longer than you thought it would, or you haven't heard back from a client about another project you're looking forward to. Either way, you feel some stress, so your creativity suffers.
Here are 10 things you can do (daily, if possible) to keep calm, boost your creativity, enhance your ideas, and keep cranking out killer copy:
1. Disappear for a while.
Sometimes it can feel like everyone needs something from you—and they need it "now." Instead of working on your goals, you find yourself answering emails and phone calls.
When this happens, disappear for a while. Carve out hours when you're simply not available. You could do this on a regular basis or whenever you feel that you need a break. You'll be surprised what you can do with 30 minutes of completely uninterrupted time. Don't feel pressured to check email or answer your phone. It can wait.
2. Take more breaks.
If you're having a hard time focusing or being creative, maybe you need a break. Get a glass of water, take a walk, soak up some sun, and then try again. Also, make sure to take time to stretch often—especially your neck and shoulders if you sit at your desk for most of the day.
3. Find a hobby.
If you love to write, it might be your hobby. But if it's also your job, you may get burned out. Consider finding a hobby away from the computer and separate from writing.
For example, I'm dabbling in gardening and making dollhouse miniatures with polymer clay. I'm having a lot of fun and coming back to my writing with a renewed interest. Try it out and see if it makes a difference for you.
4. Work when you're most productive and creative.
If you write when you're most productive, creative, and alert, you'll be able to finish faster and feel better about the work you do.
Experiment by working at different times for a few weeks to determine when you're the most productive and creative. Then, try to work at that same time as often as possible.
5. Go barefoot!
A lot of freelance writers already do this, but if you're used to going to an office, it may feel natural to put shoes on every morning. Kick off those shoes and wiggle your toes!
6. Exercise.
If you're working at home, it's really easy to "forget" exercise. But, exercise—even a little bit—not only keeps you healthy, but also makes you happier and less stressed. My strategy is to spread exercise throughout my day—5 pushups here, 10 jumping jacks there—so I never have to run in place for a half hour.
7. Set the mood.
You'll find you're much happier if your office is somewhere you want to be. If you have your own office space, customize it. I improved my work—and enjoyment—considerably by investing in sun-blocking curtains, a second monitor, and a supportive chair. To complete the mood, I also added some decorations and indoor plants.
8. Take a nap.
One of my favorite things about working at home is the option to take an afternoon nap. Most days I don't, but I love that it's an option. If you work at home—or if you can pull it off—try taking a short nap to boost your creativity.
9. Chew gum.
This might sound wacky, but I read it on a website and tried it out. It works! When I'm chewing gum, I find it easier to stay focused, absorb information, and be creative.
10. Remind yourself of your "why."
When I feel stressed, reminding myself why I'm pursuing the writer's life helps me stay creative. I may have to push through a barrier today, but tomorrow I'll be that much closer to my goals.
What did I miss? There are so many ways to boost your creativity that I couldn't have possibly covered them all …
How do you boost your creativity? Comment below to join the discussion.

The Professional Writers' Alliance
At last, a professional organization that caters to the needs of direct-response industry writers. Find out how membership can change the course of your career. Learn More »

Published: January 6, 2014