Breaking News:
AWAI Updates and Expands Its Flagship Accelerated Program for
Six-Figure Copywriting

I'm very excited to announce that we have just finished some new updates and an expansion of AWAI's popular flagship program the Accelerated Program for Six-Figure Copywriting.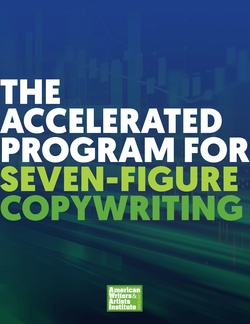 When we launched it back in 1997, the Accelerated Program was the first formal copywriting program of its kind. It educated aspiring writers in the core skills of direct response writing and the key elements of creating a successful sales package.
Thanks to strategic updates over the last 17 years, the program remains one of the direct response industry's best-known and most comprehensive foundational programs for copywriters. Hundreds of successful copywriters credit the Accelerated Program with helping them get their start in the industry.
The most recent updates focus on the resources beginning copywriters need to move from learning basic direct response skills to applying those skills in a successful writing career. The program has also been expanded with two completely new sections that cover picking an area of specialization and effectively connecting with high-quality clients.
More than 200 pages of expert insights, multi-media resources, and hands-on activities have been added. Interested writers will find everything they need to not only fully understand the basics of direct response writing, but also translate those skills into lucrative real-world opportunities.
From our first day in business, AWAI's mission has been to help aspiring copywriters develop the critical writing skills they need for financial security, independence and freedom. With this newest edition of the Accelerated Program, AWAI is building on that promise and making sure the next generation of great writers have the tools they need to launch their careers and make money with their writing.
Learn more about the Accelerated Program for Six-Figure Copywriting.
And remember, since this is one of AWAI's "Living Programs," members who already own the Accelerated Program for Six-Figure Copywriting will automatically get access to the new edition on their myAWAI page. Check it out now!

The Accelerated Program for Six-Figure Copywriting
Turn the ability to write a simple sales letter into a successful freelance career. Find out how you can make a six-figure income working from anywhere you want as a direct response copywriter. Learn More »

Published: January 30, 2014