A Unique Opportunity to Learn EVERYTHING You'll Need to Launch a Successful
Web-Writing Business –
and Get Paid While You Do It!

If your goal for 2014 is to write for the web, I have an exciting proposition for you.
It's a unique opportunity to learn everything you'll need to launch a successful web-writing business – and be paid while you do it.
You'll begin by coming to see me in my hometown of Austin, Texas.
If you've never been – let me just say you're in for a treat. Austin has incredible food and music, as well as loads of outdoor activities. It's busy and vibrant, so there is always something going on. And I promise you, if you come, we'll be sure to get out on the town together.
But not before we take care of some business first.
Because quite frankly, what I have planned for you has the potential to be a life-changing experience – just like it's been for others the other times we've gotten together.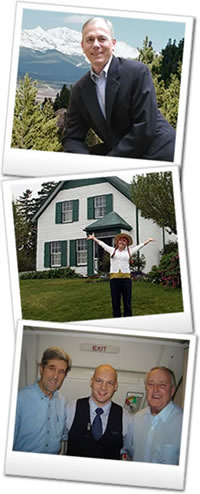 Bob Edelstein, for instance …
After winning rave reviews (and a healthy-sized check) for copy he wrote at the 2012 Web Copywriting Intensive – he gained the much-needed confidence to shift his freelance business into high gear. Within weeks, he had three more assignments from contacts he made there. But it gets even better …
At last year's Intensive he reported back that his part-time writing had earned him THREE TIMES the salary he was making at his full-time financial job – in just the past year!
Then there's Mindy McHorse – she's amazed at how the direction of her life changed after she sat down with my friends and me in 2010. Before honing her skills at the Web Intensive, she was making a respectable $24K per year as a part-time writer. Yet on December 28th of that very same year, she finally hit her six-figure goal by making $100,598.
And she's cleared the six-figure goal every year since … while only working 20 hours a week!
Henry Bingaman was a 23-year-old flight attendant when he came to our first Web Intensive back in 2009. He was so inspired by what he learned that he quit his flight attendant job when he returned home and started working as a web writer.
"It gave me enormous confidence," he told us by email later. "I flew one more trip, they called me to fly to Munich and I realized I could make more money if I stayed home and wrote 2 emails … So I turned down the trip and quit."
Now he tells us he's well on the path to becoming a seven-figure copywriter by the time he's 30!
Crazy thing is, before we all met up together, these people were just like you.
They wanted to be writers. They thought web writing was a good fit for them. They just weren't sure what they needed to know … or how to proceed with launching their business and getting clients.
That's exactly what we showed them.
And it's what we'll show you if you're ready to take the same kind of life-changing, career-boosting step.
Learn more about the 2014 Web Intensive.
Don't delay! Until Friday, January 17th, you can save $1000 off your registration fee, AND receive a guaranteed paid web-writing assignment from me. Don't delay on this one! Learn more now.

The Professional Writers' Alliance
At last, a professional organization that caters to the needs of direct-response industry writers. Find out how membership can change the course of your career. Learn More »

Published: January 8, 2014