Live: The Barefoot Writer January Issue

Ready for a shot of motivation so you can get pumped-up and excited about the New Year? We're here to make sure that feeling doesn't go to waste!
That's because now's the time to capitalize on every ounce of momentum you can summon, especially if you want 2014 to be THE year you go big with your writing goals.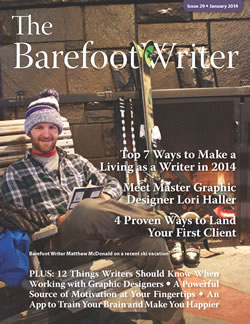 We've hit the ground running here at The Barefoot Writer. Our January issue is designed expressly to propel you into the kind of writer's life you crave. Here's some of what you'll find …
The top 7 paths to success as a writer in 2014
4 proven (and easy) ways to land your first client
What writers should know about working with graphic designers
A powerful source of motivation right at your fingertips
An app to train your brain for better writing
As always, we've got multiple ways for you to earn a bonus $100 … and kick off the New Year right! See pages 30 and 33.
Check out this month's Barefoot Writer now!
Not a subscriber yet? Click here to learn more about becoming a member of The Barefoot Writer and start living the lifestyle you want by writing.
Your next
$5,000-a-month

retainer …

The copywriting world is going through a massive shift.

And it's created a major and urgent opportunity for writers (this could be bigger than web writing was back in the early 2000s!).

With this skill, you could walk in to practically any business. Tell them what you do. Then walk out with a check for $5,000 for the month (and every month after that).

That's because practically every company on earth wants "in."

But they need your writing skills to do it.
Published: January 3, 2014