Live: The Barefoot Writer February Issue

"Become a paid freelance writer faster … and do it the easy way."
Sounds like the perfect path to success, right? That is … as long as it pans out.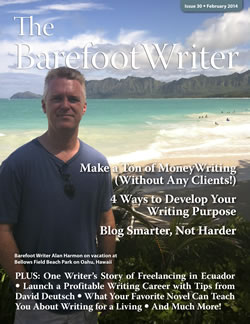 The thing is, here at The Barefoot Writer, we're strong believers in the fast track. And the fast track to success is real — we've got hundreds of members living their dream writer's lives to prove it.
But the fast track still involves putting one foot in front of the other, each and every day. We're just here to make sure you never veer off-course. That's why our February issue is packed with essential writing tips to guide you toward your goals in the easiest, most rewarding ways possible.
This includes …
How to get in on a recently-surfaced writing opportunity that can mean a lot of money but doesn't require clients
Practical writing advice from A-level, internationally-recognized copywriter David Deutsch
Action-based advice on how to use your favorite novel to improve your writing
Easy-to-implement tips on how to blog smarter and faster
Plus, we address practical reader questions in this issue on how to invoice clients and nab retainer agreements.
Check out this month's Barefoot Writer now!
Not a subscriber yet? Click here to learn more about becoming a member of The Barefoot Writer and start living the lifestyle you want by writing.
Work with the AWAI Team on a Real Writing Project!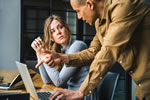 "Simulated Training" is AWAI's newest interactive learning where you get to work directly with AWAI's copy chief on a real writing project.
Not only will you experience what it's like to write for a real client — you'll learn what to do at every stage of the writing process … plus you'll get live personal feedback on your writing.
And right now, we're offering a limited number of spots FREE to members of our highest level of learning.
Go here now for full details …
Published: February 7, 2014