Why Almost Every Company Needs
an Online Copywriter

Hi, Nick Usborne here …
This is the first of five articles I'll be sharing with you over the next few days.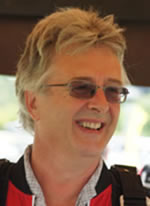 In each I'll be covering an aspect of the fast-growing craft of online copywriting.
I've been an online copywriter myself since 1997, and I can tell you firsthand it's a wonderful way to make a living. And a good living, too.
Which brings me to the topic of this first article.
The story I'm about to share might surprise you. Because the opportunity I saw and took advantage of all those years ago is still right here for you today.
Let me explain.
When I first started writing for websites, I had to shout and scream to make myself heard. Why? Because, when it came to creating business websites, there were just two people at the table … the web developer, who did the coding, and the web designer, who worked on the look and feel of the site.
But … no copywriter.
It was only after the developer and designer had pretty much finished the site that they thought maybe it was time to ask someone to add the words.
Back then I picked up a ton of work simply by pointing out how crazy it was to almost finish a website before getting the writer involved. I also had to kick up a fuss about the type of writers they were hiring, because they weren't using copywriters who understood how the web really worked.
Put simply, companies weren't taking online copywriting seriously. And they didn't understand how bringing in a trained online copywriter could transform the performance of their websites.
That was the opportunity I jumped on back then.
Well … fast forward 17 years … and it seems that same opportunity is still alive and well today.
I was talking with a business owner a couple of weeks ago who described to me how a web development group had created the website for his business. I looked at the website, and it looked really nice. Very professional. But the writing on the site was totally bland.
In other words, the site looked good, but didn't work nearly hard enough to sell the owner's products. It was just a pretty display case … without any effort being made to drive business.
When I mentioned this to the business owner, he simply nodded and said, "I know."
He had paid the development group, but he KNEW his site was lacking strong copy.
He knew what he needed to do and hired me on the spot.
There are millions of other business owners in the same situation. They have good-looking sites that don't drive business. And the reason those sites don't drive business is because they lack strong copy.
This opportunity is wide open. In fact, it's bigger than ever before, because there are so many more business websites today than there were back in the late 1990s.
And … more good news for aspiring online copywriters … this is just one of the huge opportunities I'll be sharing with you over the next few days.
I'll also be telling you about the best way to choose a high-paying copywriting niche, some easy ways to pick up your first few clients … and a lot more.
Stay tuned, and make a note in your calendar to catch each of my articles this week.

The Digital Copywriter's Handbook
Learn how to become an in-demand online copywriter for companies big and small. Online copywriting expert Nick Usborne shows you how to write web copy that converts. Learn More »

Published: March 24, 2014