How to Get Your First Online
Copywriting Clients … Fast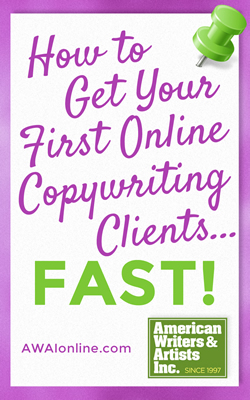 One of the things freelancers worry about the most is how they're going to pick up their first one or two clients.
I can understand that.
Imagine … you've completed your training, chosen a niche, put up a website … and then one morning you wake up and realize it's time to get your first client.
And yes, getting those first few clients is harder, because you don't yet have experience you can talk about or samples you can show.
Now, let me tell you a secret. It's not nearly as hard as you might think … so long as you persevere.
Here are three of my own favorite recommendations for new freelancers:
1. Do some work free for a friend or neighbor who has a business.
This is how I started out. There were a couple of people I knew who had their own businesses. One was a close friend, another was a neighbor.
In both cases I did some copywriting work for them for free. All I asked was that they would write me a testimonial if I did a good job.
I ended up with two recommendations and two work samples. It was then much easier for me to approach other companies – strangers – because I had some work to show them.
2. Sign up … just for a while … at a site like elance.com.
It's tough making a big living from jobs posted on sites like elance. But you can use them to create a starter portfolio.
This is like recommendation #1 … but online. Get a few jobs, ask for some testimonials and collect some good samples of the work you've done.
Again, you're now in good shape to approach bigger and better clients outside of elance.com. Simply feature those samples and testimonials on your website so that new, prospective clients can see the kinds of work you've done.
3. Send bulk but targeted emails to the companies you would most like to work for.
This is my "secret weapon." Super-easy. Stress-free. And, if you keep at it, it always works.
Watch this 7-minute video and I'll walk you through the process, from beginning to end.
Those are my "Top 3" ways to get new clients when you're starting out. There are others, but I like these because they do work, and they're not stressful! (I hate getting stressed about work.)
Again, we're getting a little ahead of ourselves if you haven't yet trained as an online copywriter. But I wanted to give you a glimpse of what your future holds … and to reassure you that there ARE ways for you to pick up new clients and get paid for your work, even when you're just starting out.
Tomorrow, in the fifth and final article, we'll wrap this up and, hopefully, I'll be able to show you why online copywriting is such a wonderful and rewarding profession.
In fact, I'll be sharing my own personal story about how freelance copywriting has helped me raise my own family and lead a pretty good life!

The Digital Copywriter's Handbook
Learn how to become an in-demand online copywriter for companies big and small. Online copywriting expert Nick Usborne shows you how to write web copy that converts. Learn More »

Published: March 27, 2014