How Much is Your Opinion Worth?

Yesterday we talked about the most obvious way your website will increase your income – by helping you sell more of your primary freelance service.
Today, let's talk about another great way to boost your income with your website …
Offering additional services!
Maybe you're just getting started now, but as you become more experienced, you'll start mastering new skills.
With your own website, you can easily start offering new services to potential clients – like consulting, site auditing, or critiques.
In other words, having your own website positions you as an expert.
Over time – especially if you keep your site up-to-date with new content – you'll be able to start charging for your opinion – in addition to your writing!
No matter what type of freelancer you are, there's something you could teach, explain, or critique – and get paid for.
Here are some examples:
A photographer could teach his or her clients how to dress appropriately for photos …
A copywriter could critique his or her clients' websites or explain how to capture more leads …
A resume writer could review current resumes, give advice for enhancing them, and even teach his or her clients how to get noticed by potential employers …
See how each of these things is valuable to the potential client and something you could offer in addition to the original freelance service?
Plus, think about this – even if you charged just $50 per hour for your opinion and devoted just five hours each week to providing that service – that's $1,000 extra each month!
And, all you have to do is update your website copy to say you're available for these new services! (Once you set up your website, of course.)
Not sure your opinion is worth something? Consider this:
An "expert" is simply someone who knows more than the average person on a topic or subject. Even if you only finish one course in your niche, you'll know more about that subject than 99% of people.
If you're ever in doubt, just say, "Let me research this and get back to you." Then, come to the AWAI forum and we'll point you in the right direction.
Have any questions? Go here to comment, and let's talk about it.
And, don't forget today's action step …
Action Step: Get out a sheet of paper and brainstorm all the things you could potentially teach, explain, or critique for a client.
If you're having trouble, consider starting with site audits. They're a great way to offer other services – even if you're just getting started. Check out the video here.
Tomorrow, I'll be back to reveal my favorite way to make extra income with a freelance website …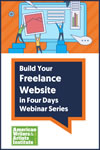 Build Your Freelance Website in Four Days
No matter what niche you're in, if you're a freelancer, you must have a website that showcases what you do. You can launch your own professional website in just 4 days. Experts show you every step. Learn More »

Published: March 5, 2014