How to Get More Freelance Gigs

Yesterday we talked about how finally launching my own freelance website put me on the map. It gave me the confidence to believe in my business and myself.
Today – let's talk about how your website will put extra income in your pocket …
The first – and likely most obvious – way your site will increase your income is through more freelance gigs.
Take it from Bob Bly – who is called "America's Top Copywriter" by McGraw-Hill …
Bob says, "Having my own website and e-zine has been the most profitable self-promotion I've ever done in my 22 years as a freelance copywriter. Bar none."
"It has also helped me close tens of thousands of dollars in copywriting assignments with new clients right over the phone … assignments I am convinced I may not otherwise have gotten," he said.
So, once you have a website, how can you use it to sell more of your services? Here are four ideas:
Promote your website. Look out for opportunities to mention your website to others. Examples are in your social media bios, your email signature, or on a physical business card.
Don't forget your contact info. How else will potential clients contact you? Also, make it easy for them to find what they're looking for with a clearly labeled "Contact Me" page.
Remember WIIFM. When writing your website copy, be sure to answer your potential clients' biggest question: "What's in it for me?" In other words, how will you help them solve their problem?
Add a call to action on every page to guide your visitors through your site and keep them engaged until they contact you. Some sample calls to action are, "Click here to contact me." Or, "Go here to see my services."
I personally followed these four tips. It didn't take long at all for my website to start landing me paying clients.
In fact, my first client from my GillickCopy.com website hired me for over $1,000 in paying projects and has gone on to refer me to others. Now 75% (or more) of my new clients come directly to me through my website.
As you can see, a website is absolutely essential these days. That's why today's action step is so important …
Action Step: Carve out 30 minutes today to explore some freelance writers' websites. You can start with AWAI's directory of freelance writers. Be sure to take notes if there are any ideas you'd like to apply to your own site. Also, don't forget the four tips above.
Of course, if you haven't committed to getting your own site online yet, I highly recommend taking a few minutes to read this article.
Then, tune in tomorrow. We'll talk about another great way your website can help you increase your income.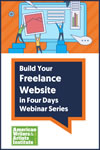 Build Your Freelance Website in Four Days
No matter what niche you're in, if you're a freelancer, you must have a website that showcases what you do. You can launch your own professional website in just 4 days. Experts show you every step. Learn More »

Published: March 4, 2014